Bloomington Car Accident Lawyer
The Bloomington car accident lawyers at Strong Law Offices have built a reputation for helping victims in our community overcome the financial burdens that accompany motor vehicle crashes. For over 25 years, our injury law firm has been helping injured victims recover compensation to pay for their medical bills, lost wages, and more.
Contact a Bloomington car accident lawyer at Strong Law Offices to get started with your recovery. Call (309) 828-3800.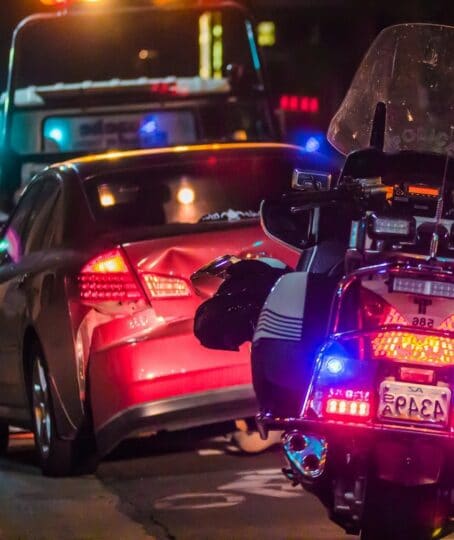 Why Hire a Bloomington Car Accident Lawyer?
Retaining a car accident lawyer in Bloomington after your crash can substantially increase your chance at maximizing your recovery. A car accident attorney is familiar with the legal system, and can help you gather the evidence you need to prove your claim. If your lawsuit goes to trial, the attorneys at Strong Law Office can help you prepare for a hearing. We will present your case to the jury, helping you win a reasonable settlement for your car accident.
Types of Injuries Our Car Accident Attorneys See
Car accident injuries range from moderate to severe. The level of injuries a victim sustains depends on the severity of the impact of the crash. Accidents involving vehicles that are traveling at higher speeds, and collisions involving large trucks, often yield more catastrophic injuries than low-impact crashes. Injuries commonly seen by car accident attorneys include:
Broken bones and fractures
Head, neck, and spine injuries
Soft tissue injuries
Amputations
Burns
Top Causes of Illinois Car Accidents
A variety of factors contribute to car accidents each year. However, there are common behaviors that cause a majority of car accidents. In Illinois, the most common cause of fatal car accidents is drivers leaving their lane. Speeding and poor weather conditions are next in line as the most frequent causes of car crashes. Additionally, accidents are often caused by:
Fatigued driving
Defective vehicles
Distracted driving
Driving while intoxicated
Poor road maintenance
Animal crossings
Distracted Driving
Distracted driving is a negligent behavior that contributes to the hardship of nearly 400,000 victims each year. Driver distractions generally fall into four categories: visual, auditory, manual, and cognitive. Behaviors that fall into these categories include texting while driving, talking on the phone, interacting with passengers, adjusting a GPS, or eating while driving.
Speeding
Drivers that exceed the speed limit are putting themselves, pedestrians, other drivers, and cyclists at risk for serious injuries. Additionally, speeding increases the likelihood of a crash when driving through poor weather or road conditions.
Drugged or Drunk Driving
Driving under the influence is a form of negligent driving commonly associated with the consumption of alcohol. However, there are a variety of other substances that lead to accidents each year, such as:
Prescription painkillers
Recreational drugs
Sleeping aids
Anxiety drugs
Cough and cold medicine
Other prescription drugs
Uber & Lyft Accidents
Car crash claims for Uber and Lyft accidents are slightly different from traditional claims. Passengers and drivers of the other involved vehicles can recover damages from the at-fault party. However, the liable party in a rideshare accident claim may be the rideshare driver or the rideshare company. Whether a driver's personal insurance policy or the rideshare company's insurance coverage will pay damages depends on the details of the accident. The Bloomington motor vehicle accident attorneys at our law firm understand the complexities of a rideshare claim. We can help you get fair compensation.
Uninsured and Underinsured Motorist Accident Claims
When the at-fault driver fails to maintain adequate insurance coverage, injured victims can still recover damages. However, instead of filing a claim against the other driver's insurance company, victims must use their own uninsured or underinsured motorist coverage. In Illinois, this coverage is a mandatory component of car insurance.
In addition to covering accidents with motorists who do not have adequate insurance, uninsured and underinsured motorist coverage extends to accidents where the at-fault party flees the scene. This protects victims from covering their own medical expenses when the negligent driver illegally abandons the accident scene.
What to Do After a Car Accident
The steps taken immediately after an accident can make or break a car crash claim. Seeking medical treatment as soon as possible helps you prove your injuries. Additionally, gathering sufficient evidence is crucial to establish liability. To ensure maximum recovery, you should retain a car accident lawyer immediately after the crash.
In the moments after a car accident, victims should take the following steps:
Check themselves and their passengers for injuries and seek necessary medical care
If the vehicle is in an unsafe location or causing a hazard, relocate to safety when possible
Call 911 to report the accident and file a police report
Exchange personal information with the other driver(s) involved
Document the accident through photos, eyewitness testimony, and videos
Retain the help of a car accident lawyer and report the accident to the insurance company
Filing a Car Accident Lawsuit in Illinois
The aftermath of a car accident is often overwhelming for victims. Financial burdens are at a high, and individuals are left to navigate the complicated claims process alone. With the additional financial pressure they're facing, injured victims may feel pushed to accept the first offer that comes their way without considering whether it is a fair settlement. A Bloomington car accident lawyer at Strong Law Offices is familiar with the claims process and can help victims secure maximum damages.
Though accident victims can file a claim on their own, there are some circumstances where the help of a car accident lawyer is necessary:
The injuries a victim suffered were severe or catastrophic
The accident led to the death of a loved one
The other driver failed to carry insurance or fled the scene
The victim wants to recover maximum compensation for his or her injuries
The insurance company is questioning the negligent party's degree of fault
Determining Liability in Your Car Accident Claim
Knowing who is liable in a car accident claim allows victims to recover fair damages for their injures. To determine liability, a court may review the following evidence:
Illinois follows a comparative negligence standard. If a car accident victim is determined to be partially at fault for the accident, his or her damages award will be reduced by the percentage of fault. Victims can only recover damages when they are less than 50% at fault.
Getting Maximum Compensation for Your Injuries
The car accident lawyers at Strong Law Offices can help you make the most of your injury claim. We will help you recover full economic and non-economic damages. You may be able to recover punitive damages as well, though these are rare and apply only in cases where a defendant should be punished. Economic damages are those that represent concrete financial losses. These include:
Medical treatment expenses
Lost wages
Long term care costs
Future lost wages
Non-economic damages are less tangible, as they are not directly related to a definite financial loss. These include:
Pain and suffering
Emotional distress
Loss of enjoyment of life
Loss of consortium
Frequently Asked Questions About Car Accidents in Bloomington
How long do I have to file my Bloomington car accident lawsuit?
Car accident victims in Bloomington generally have a two-year deadline to file a personal injury lawsuit. This is referred to as the statute of limitations, and it begins on the date of the accident. If an exception applies to your case, however, your deadline to file a lawsuit can be shorter or longer.
How much is my car accident claim worth?
The value of a car accident claim depends on the insurance coverages available, the severity of the victim's injuries, and the percent of fault the victim carries. Damages in car accident claims are calculated by adding up the victim's lost wages, medical expenses, and other expenses associated with the injury.
What happens if I was partially at fault for my car accident?
You can still recover compensation against the other party if you were partially at fault for your car accident. Illinois follows a comparative fault system, meaning an accident victim may be determined to be partially liable for his or her accident. However, as long as the victim's percent of fault does not exceed 50%, he or she can still recover damages. His or her settlement award will be reduced by the percentage of fault he or she contributed.
Learn more about car accident claims in Bloomington:
Hurt in a crash? Call a Bloomington car accident lawyer at Strong Law Offices to start your claim today. (309) 828-3800.