Distracted Driving Lawyer

in Peoria, IL

What is the No. 1 cause of people getting hurt on the highway? Other people not paying attention. The driver of the other vehicle:
Was talking on the cell

Was texting*

Was changing stations on the radio

Was wolfing down a burger

Was drunk or on drugs

Was falling asleep at the wheel

Was listening to music on his headphones

Was having an argument with someone else

Did not properly maintain his car — non functioning brakes, tires, wipers, lights

Failed to signal his turn
*Note: Texting while driving is now illegal in Illinois. 
Check our blog article on the three types of distracted driving.
If you were injured in a distracted driving accident, call Illinois distracted driving accident lawyers at Strong Law Offices. Free consultations.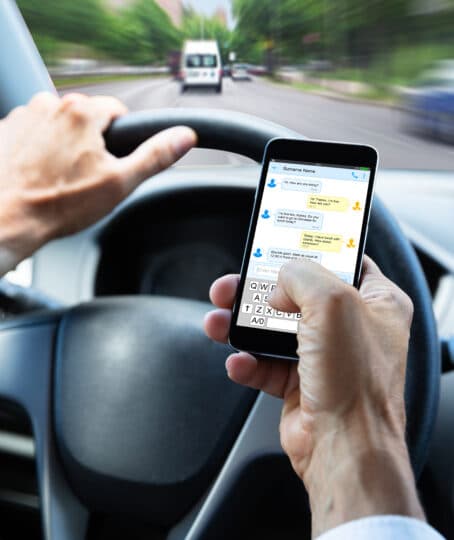 Contact a Peoria Distracted Driving Lawyer
Accidents with this general cause — distracted driving — are the most galling because the behavior of the other driver is so thoughtless and so disrespectful. Because the driver was goofing off, you were injured … you lost pay … you required surgery and rehab … your life underwent a severe change.
At Strong Law Offices, we fight "extra hard" for victims of other drivers' bad behavior, because what happened to you can happen to anyone. As a society, we must teach other motorists that driving is a privilege, that other people have rights, and that the cost of negligence will be the most expensive lesson they ever learn.
The Law Firm That Works for You
Strong Law Offices works exclusively on personal injury, wrongful death, and workers' compensation cases in Central Illinois. Our attorneys have been practicing high-quality personal injury law for more than 30 years. We are experienced in the craft of accident investigations, and we are zealous about holding negligent parties responsible for the damage they cause.
Free Consultation With a Distracted Driving Lawyer
To learn how we can help you recover compensation after an accident caused by a distracted driver, call Strong Law Offices at 309-688-5297 or contact us online.
Other Motor Vehicle Accident Cases Strong Law Offices Handles
Our car accident lawyers at Strong Law Offices handle a variety of motor vehicle accident cases, including but not limited to:
Put our experienced personal injury lawyers, medical malpractice attorneys, and workers' comp lawyers to work for you.
When You Have Been Injured, Get Strong. The Distracted Driving Lawyers At Strong Law Offices Are On Your Side.