Peoria
Firefighter Injury Lawyer
​Firefighters take risks every day. They put their own lives on the line in order to ensure the safety of others. While their goodwill is apparent, when it comes to an injury in the workplace, the insurance company does not prove to be the same. If you are a firefighter who was injured on the job, you need a firefighter injury lawyer who will stand up for your rights. At Strong Law Offices, we are your advocate.
We serve injured firefighters throughout the entire state of Illinois from our offices in Peoria, Springfield, Bloomington, and Chicago. Our firefighter injury lawyers stand up for the rights of those who have been injured in negligent accidents in workers' compensation claims and personal injury claims. We are experienced, knowledgeable of the law, and dedicated to providing competent legal services that fully meet your needs.
Are you a firefighter who was injured at work? Call the firefighter injury lawyers at Strong Law Offices. Consultations are free.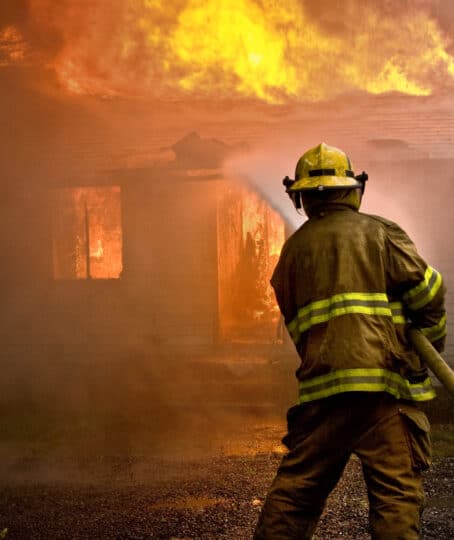 Our Firefighter Injury Lawyers Protect Firefighters Across Illinois
Firefighters and police officers oftentimes encounter various types of high-risk exposure to injuries. Firefighters and police officers can be injured during training exercises, everyday job duties as well as responding to emergency situations. Oftentimes, firefighters and police officers have access to various statutory remedies separate and apart from their rights under the Illinois Workers' Compensation Act.
These rights and benefits that are outside the workers' compensation laws require a coordination of benefits to minimize any potential exposure to offsets while maximizing recovery. Firefighters and police officers could be eligible for wage loss benefits if they are disabled from returning to their occupation. Strong Law Offices fights for lifetime wage loss benefits in those cases.
Injuries to Firefighters in the Workplace
​Firefighters are constantly in dangerous environments, but that does not mean they are not entitled to benefits for injuries suffered on the job. People in the industry are in compromising work environments where heavy equipment use is necessary, along with repetitive movements. These conditions can cause injuries that could have been avoided if the environment was properly maintained.
At Strong Law Offices, our firefighter injury lawyers will help you in getting the medical treatment necessary to assist you in your recovery and inform you of the workers' compensation benefits that you may be entitled to. It is always our goal to maximize the recovery for our clients' claim, and we work hard to make sure that happens.
Springfield Firefighter Injury Lawyers
Occupational injuries such as head, knee, back and spinal cord injuries are different from injuries such as lung damage from smoke, an occupational disease. We will file your workers' comp claim in a timely manner and make certain you get the amount of monetary compensation you are entitled to.
Contact Our Fireman Injury Lawyers
​We want to hear about your situation. Find out how we can help today. Contact our attorneys online or by calling 309-688-5297. We offer free initial consultations and take all cases on a contingent fee basis. This means we do not collect a fee unless we recover compensation for your claim.
We have convenient office locations in Peoria, Chicago, Bloomington, and Springfield and represent clients throughout Illinois.
You will be interested in these workers' comp resources:
? Call the firefighter injury lawyers at Strong Law Offices. Consultations are free.