Illinois
Paralysis Injury Attorney
​Serious spinal cord and back injuries can leave a person paralyzed after an accident. Those who suffer from paralysis will have immediate medical needs, and long-term medical needs as well. If you have been injured on the job in Illinois, your employer is obligated to pay workers' compensation benefits. A paralysis injury attorney at our firm will help make certain that you receive the maximum amount of benefits for your workplace injury.
Strong Law Offices has a proven track record representing workers who have been injured on the job. Our lawyers have years of experience fighting insurance companies and know the tactics they will try to use to get a person to settle for less than what they deserve.
Did negligence cause you to become paralyzed? Call the Illinois paralysis injury lawyer at Strong Law Offices.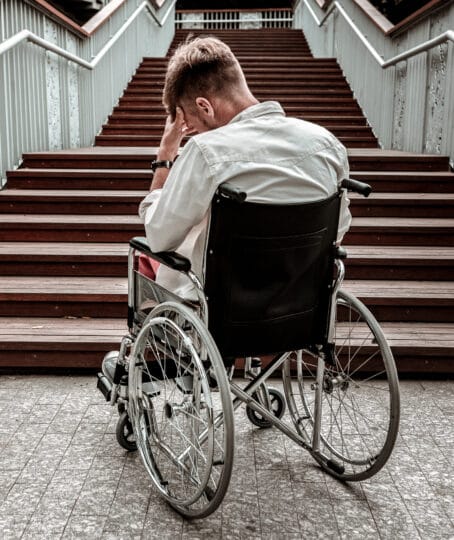 Back, Neck and Spinal Cord Injury Attorneys
Do you need a paralysis injury attorney in Illinois? Our law firm has in-depth knowledge of serious injuries such as back, neck and spinal cord injuries that lead to paralysis. Our clients benefit from both our legal knowledge and medical knowledge. We can communicate effectively and authoritatively with medical professionals and insurance companies regarding the extent of our clients' injury, which helps leverage our ability to maximize a settlement.
Our lawyers know how to examine medical records, gather documentation, and can work with specialists who can attest to the severity of your injury. We know what needs to be proven in order to ensure that our clients receive the maximum amount of benefits possible.
Advocacy for Workers in Illinois
We at Strong Law Offices represent all types of injured workers, including medical professionals, welders, painters, factory workers, industrial workers, meatpacking industry workers, firefighters, police officers, and many other types of workers in Illinois.
You will be interested in these personal injury resources:
Contact Our Spinal Cord Injury Attorneys
Please contact our experienced team to schedule a free initial consultation. Call 309-688-5297 or contact our Illinois paralysis attorneys online. We offer convenient office locations in Peoria, Bloomington, Springfield, and Chicago and are happy to schedule consultations at any location.
Paralysis Injury And Other Injury Cases Strong Law Offices Handles
Our personal injury lawyers at Strong Law Offices handle a variety of personal injury cases, including, but not limited to:
Our workers' compensation lawyers, medical malpractice lawyers, and car accident lawyers are here to help you.
Did someone else's negligence cause you to become paralyzed? Call the Illinois paralysis injury attorney at Strong Law Offices.