Peoria
Product Liability Lawyer
Were you injured by a dangerous medication or medical device? The product liability attorneys at Strong Law Offices can help you recover compensation.
With more than 25 years of experience helping victims throughout Illinois, our law firm will help you obtain quality medical treatment, gain access to resources that can assist you during this difficult time, and hold the responsible parties accountable for their negligence.
Did a defective drug or device cause you to be injured? Call the product liability lawyers at Strong Law Offices.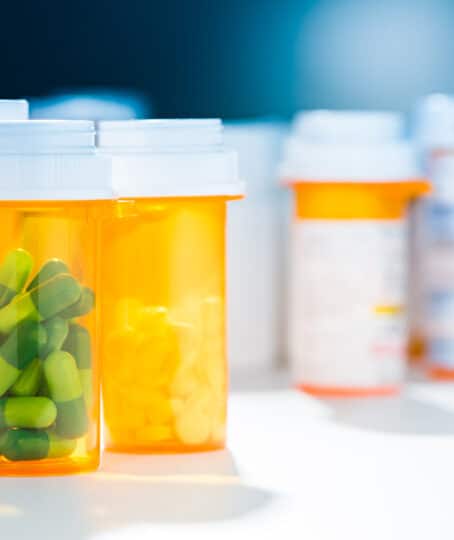 Defective Drugs and Medical Devices
A product liability lawyer typically sees countless injury cases involving defective drugs and dangerous medical devices. Drug and medical device companies are responsible for delivering safe products and forewarning about the risks associated with the use of prescription medications and medical devices. 
Manufacturer negligence and flaws in the design of medical devices or drugs or the failure to warn users of their dangers can put millions of people at risk of serious and debilitating injuries, including death.
Several product liability lawsuits are pending throughout the United States. These include, but are not limited to:
Transvaginal mesh
Talcum powder
Zantac
Xeljanz
Valsartan
Proton pump inhibitor (PPI)
Risperdal
Hip replacements
Hernia mesh
E-cigarettes
Elmiron
Allergan breast implants
Belviq
3M combat arms earplugs
Baby food containing toxic metal
Nexium
Prilosec
Prevacid (stomach cancer)
Levaquin (aortic aneurysm and dissection)
Cipro
Avelox
Xarelto
Januvia
Victoza
Taxotere (permanent hair loss)
Pradaxa
Onglyza (heart failure)
Should You Hire a Product Liability Lawyer After Exposure to Unsafe Medical Devices or Medications?
Our product liability attorneys will evaluate the following factors when considering whether you should bring a legal claim against a manufacturer, marketing company, retail distributor, wholesale distributor, or other distributors of medical devices or prescription medications:
Marketing defects
Design defects
Manufacturing defects
Additionally, an analysis of a defective product claim often involves careful consideration as to the specific facts and circumstances of the underlying medical condition for which the medical device or prescription medication was initiated.
Our injury attorneys will also consider whether the patient who was prescribed the prescription medication or medical device was adequately, reasonably, and fairly warned of the risks or complications of the use of a particular medication or medical device.
How Our Product Liability Law Firm Investigates a Defective Product Claim
When investigating a medical device claim where a product liability lawsuit may result, a product liability attorney at our injury law firm generally takes the following steps.
Secure the medical device
Identify witnesses
Obtain medical records or any other records leading up to the implantation or use of the medical device
Collect evidence and record data
Have the medical device examined by an appropriate expert
Conduct interviews of relevant persons
Conduct research on similar adverse events involving the use of the medical device or product
Types of litigation in product liability Lawsuits
Several types of litigation are utilized by product liability attorneys when pursuing medical device or prescription medication litigation.
Specific litigation in state court
Specific litigation in federal court
Multidistrict litigation
Class action litigation
Oftentimes, prescription drug or medical device or product litigation involves collaboration with affiliated attorneys. Given the nature of multi-district litigation and/or class action lawsuits, there may become hundreds or thousands of lawsuits that are combined into one guiding procedural mechanism to guide the ligation. This is often due to the issues of commonality.
The judicial system has worked out various rules of civil procedure to guide the progress of pretrial discovery in trials, including Bellwether trials, to establish issues of commonality and common settlements and/or the use of common settlement portals. Oftentimes, it is necessary for the initiating injury lawyer to collaborate with various lawyers to improve the chances of a successful lawsuit or claim for a medical device or prescription medication.
What Damages Can Be Recovered in a Defective Medical Device or Dangerous Prescription Medication Lawsuit?
These damages may be able to be recovered in personal injury lawsuits involving medical devices and prescriptive medications.
You will be interested in these personal injury resources:
Contact Our Product Liability Lawyers
Please contact the lawyers at Strong Law Offices to schedule a free initial consultation. We have office locations in Peoria, Chicago, Bloomington, and Springfield and represent clients throughout Illinois. Our team is made of, among others, talcum powder lawyers, stryker lawyers, and transvaginal mesh lawyers.
Product Liability And Other Personal Injury Cases Strong Law Offices Handles
Our personal injury lawyers at Strong Law Offices handle a variety of personal injury cases. These include, but are not limited to:
Our experienced workers' compensation lawyers, medical malpractice lawyers, and car accident lawyers are here to help you recover.
Did a defective device or drug cause you to be injured? Call the product liability lawyers at Strong Law Offices.