Amputation Injury Lawyer

Peoria, Illinois

Suffering from an injury that has resulted in an amputation affects your life in every way possible. Your day-to-day activities are affected, as are your family and your career. While no amount of money can justify a negligent or job-related accident, a Chicago amputation lawyer can help you win monetary compensation to ensure you and your family's financial security in the future.​


At Strong Law Offices, we will stand up for your rights. Our firm serves individuals throughout Illinois in workers' compensation claims and personal injury claims. We represent our clients with vigorous advocacy and make sure that they receive the benefits they deserve for an injury or loss.

Not only are we dedicated to our clients, we make certain they receive the short- and long-term care necessary to recover. If you value commitment and assertiveness, come to our firm.

Did you lose a limb in an accident caused by negligence? Call an Illinois amputation injury lawyer at Strong Law Offices.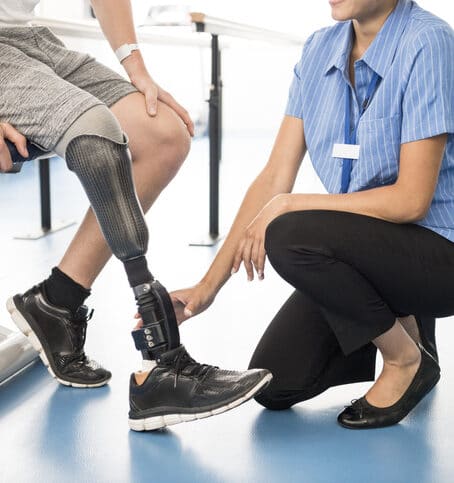 What Am I Entitled To Receive If I Suffer From An Amputation Injury?
For amputees, there is typically a statutory award that must be paid out immediately. Unfortunately, many insurance companies will not do that. For this reason, it is all the more important to seek legal advice from an amputation injury lawyer immediately.
If statutory amputation awards are not paid out immediately, the insurance carrier may be subjected to a 50% increase in the award pursuant to Section 19(k) penalties and attorney's fees under Section 16 of the Workers' Compensation Act.
A Peoria amputation injury attorney at our law firm will make it a priority to work promptly so that our clients can receive the compensation they deserve as quickly as possible. Our workers' compensation attorneys and personal injury lawyers will utilize our resources and try to elevate your case to make certain you get the maximum amount of benefits possible. This may include a wage-loss award, lifetime disability award, or even a total disability award. We are prepared to assist you if you have suffered a loss of a limb on the job, such as loss of a/an:
In addition, amputations oftentimes require lifetime medical benefits for replacements, repair, or upgrades in prosthetics. Also, Strong Law Offices will vigorously pursue handicap home replacement, handicap home upgrades, and/or handicap-accessible vehicles in the event that an amputation necessitates such future medical care.
Check these resources on our personal injury blog:
Contact an Amputation Injury Lawyer at Strong Law Offices
Interested in scheduling a free initial consultation? Please contact our firm at 309-688-5297 to speak with an amputation injury attorney. We are readily available to meet your needs and are happy to schedule evening, weekend, or off-site appointments by request.
Amputation Injury And Other Personal Injury Cases Strong Law Offices Handles
Our personal injury lawyers at Strong Law Offices handle a variety of personal injury cases, including but not limited to:
Our workers' compensation lawyers, medical malpractice lawyers, and car accident lawyers are here to help you recover.
Did you lose a limb because of someone else's negligence? Call an Illinois amputation injury lawyer at Strong Law Offices.