Peoria
Knee Injury Lawyer
A workplace injury can prevent you from returning to work. In addition, you may not be able to complete your normal day-to-day activities. You need an attorney on your side who can help you through the process of filing a workers' comp claim to make sure that you get the benefits to which you are entitled.
At Strong Law Offices, we will stand by your side. Our Illinois knee injury attorneys have years of experience representing injured workers. We never advocate for the insurance company. We only represent workers.
If you suffered work-related knee injuries, call the Illinois knee injury lawyers at Strong Law Offices.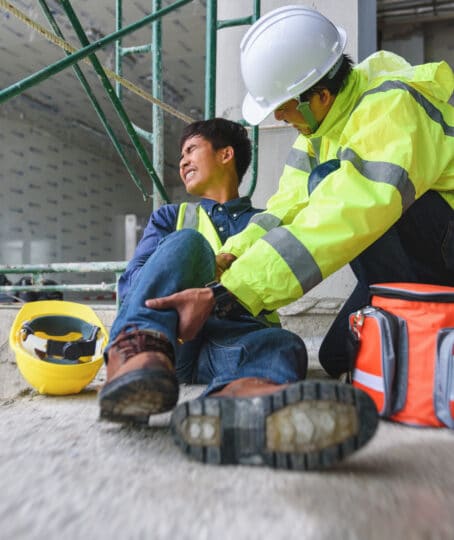 Knee Injuries
If you or a loved one has been injured in a workplace injury, our Illinois knee injury lawyers will stand by your side. We will help you get compensation for your losses and the quality medical treatment you need to recover. The knee is a complex joint in the body.
Major ligaments and tendons go through the knee, and the knee is a joint that supports the entire weight of your body. Knee injuries can have a lengthy recovery process and be extremely painful. We have represented injured workers in many types of knee injuries. Common knee injuries include:
Meniscus tears
ACL tears or ruptures
PCL tears or ruptures
Kneecap dislocations or fractures
Instability, loss of range of motion, weakness in the knee joint
Our lawyers understand workers' comp claims from both a legal and medical standpoint. We are familiar with the types of treatment that are frequently used in many types of injuries and strive to get our clients to access to medical care and the most advanced medical treatment.
We have a proven track record in workers' compensation claims and are committed to helping our clients get on a path to recovery after a workplace injury.
Contact a Knee Injury Lawyer At Law Strong Offices
​Please contact our knee injury law firm to schedule a consultation. Initial consultations are free of charge. You will meet directly with an experienced lawyer at your initial consultation. Call 309-688-5297 or contact our firm online to schedule a free initial consultation.
We have convenient office locations in Peoria, Chicago, Bloomington, and Springfield and represent clients throughout Illinois.
You will be interested in these workers' comp resources:
If your knee injury is work-related, call the Illinois knee injury attorney at Strong Law Offices.