Chicago
Police Officer Injury Lawyer
It is an unfortunate reality that workplace accidents occur all too frequently. When a worker is injured, he or she deserves to receive the fullest amount of benefits for the injury and access to the highest quality of medical care. The attorneys at our firm are here to help protect your interests throughout the legal process.
​At Strong Law Offices, we represent people throughout Central Illinois in workers' compensation claims. We do not represent insurance companies; we only represent the injured worker. Our firm is committed to providing clients with high-quality legal representation, personal attention and aggressive advocacy.
Are you a police officer who was injured at work? Call the police officer injury lawyers at Strong Law Offices. Consultations are free.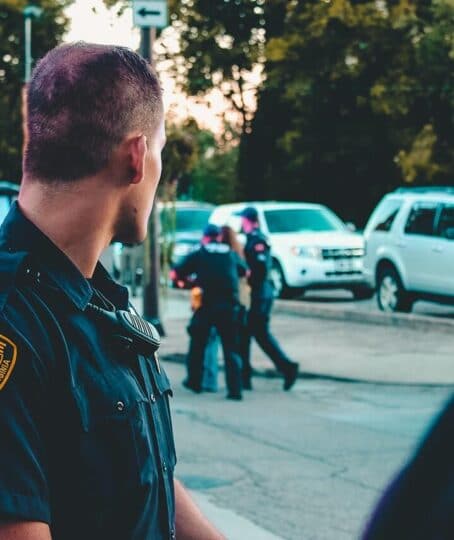 Attorneys for police officers Injured on Duty
Workers' comp claims for police officers are different from those for workers in other industries. Police officers have access to many extra benefits under Illinois law. It is important you work with a lawyer who understands the different benefits that police officers are entitled to and the coordination process of different benefits and procedures.
At Strong Law Offices, we have significant experience representing officers facing all types of injuries. Training injuries are also considered for benefits in Illinois workers' compensation claims for law enforcement officers for an on-the-job injury.
​Our Illinois police officer accident attorneys also have experience representing officers in injuries that result in the end of the officer's career. We know the different benefits that are available in these situations and are familiar with the different pension plans that officers have (and how a work injury claim affects pension).
Contact Our Police Officers Injury Lawyers
​We want to hear about your situation. Find out how we can help today. Contact our attorneys online or by calling 309-688-5297. We offer free initial consultations and take all cases on a contingent fee basis. This means we do not collect a fee unless we recover compensation for your claim.
We have convenient office locations in Peoria, Chicago, Bloomington, and Springfield and represent clients throughout Illinois.
? Call the police officer injury lawyers at Strong Law Offices. Consultations are free.