Disfigurement Injury Lawyer

In Illinois

An accident resulting in significant scarring or disfigurement can cause physical and emotional challenges. If you have been injured in an accident or in the workplace, you can turn to a disfigurement injury lawyer at our Illinois law firm.

​Scarring from a workplace injury can result in both disfigurement and disability. With our experience, we will fully evaluate these types of injuries to maximize recovery. Also, future medical treatment or cosmetic care needs to be considered while assisting an injured worker with scarring from a workplace accident.

Strong Law Offices represents people who have been injured in the workplace in Peoria, Bloomington, Springfield, and throughout Illinois. Our firm is exclusively focused on representing victims. We never advocate for the insurance company or large corporations. We will help you through every step of the process and protect your interests.

Was your disfigurement injury caused by negligence? Call the disfigurement injury lawyer at Strong Law Offices.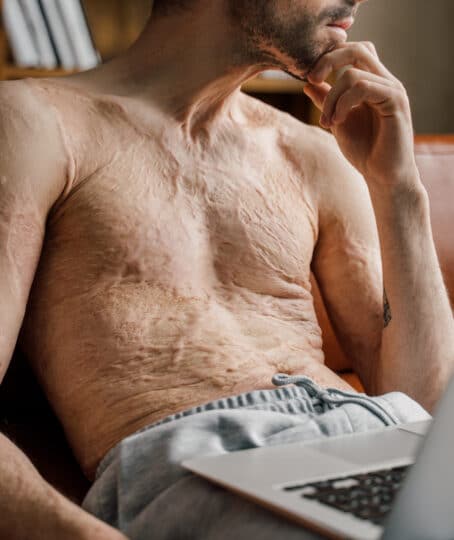 Standing Up for Victims of Serious Injuries
​If your accident caused scarring or disfigurement, a disfigurement injury lawyer at our law firm can guide you through the legal process, helping you recover compensation for medical bills, pain and suffering, and lost wages. Scarring and disfigurement are serious injuries that can be the result of burns, exposure to toxic chemicals in the workplace, lacerations, and more. There can also be flash burns in the eye, cornea, or retina to welders in the workplace. Scarring in the eye is evaluated as a disability. The ability to cope with your injuries can be difficult on many levels.
At Strong Law Offices, we are committed to providing our clients with the highest level of quality legal representation. Our Illinois attorneys for scarring and disfigurement will fight to get our clients access to the most advanced medical care and choice in physicians. We know how to work against the tactics that insurance companies will use to make certain that our clients get the full amount of benefits they deserve.
Contact a Disfigurement Injury Lawyer at Strong Law Offices
Please contact a disfigurement injury lawyer at Strong Law Offices to schedule a free initial consultation. We have office locations in Peoria, Chicago, Bloomington, and Springfield and represent clients throughout Illinois.
Disfigurement Injury And Other Injury Cases Strong Law Offices Handles
Our personal injury lawyers at Strong Law Offices handle a variety of personal injury cases, including, but not limited to:
Our workers' compensation lawyers, medical malpractice lawyers, and car accident lawyers are here to help you.
Was your disfigurement caused by someone else's negligence? Call the disfigurement injury attorney at Strong Law Offices.