Peoria, IL
Truck Accident Lawyer
Collisions between large commercial trucks and other vehicles often result in catastrophic injuries. Because of this, the financial burdens that accompany these types of crashes are generally astronomical.
Our truck accident lawyers stand strong against large trucking corporations and powerful insurance companies to ensure victims' settlements are maximized.
If a trucker's negligence caused you to be injured or your loved one was killed, call the truck accident attorneys at Strong Law Offices for a free, no-obligation case evaluation.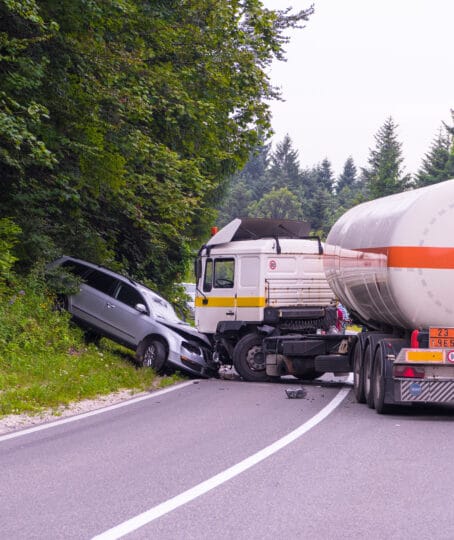 Truck Accidents Are Different from Car Accidents
Victims in Chicago often hire a truck accident lawyer after a crash with an 18-wheeler because a semi-truck accident case is unlike a typical car accident case in many ways.
First, the massive size of commercial trucks, which typically weigh approximately 80,000 pounds when fully loaded, means truck crash injuries are generally more severe than those caused by car accidents.
Second, assigning liability to all liable parties is more challenging in a trucking accident because of the various parties that may be involved.
Lastly, truck drivers and large trucking companies are governed by Federal Safety Regulations. The maze of regulations can be complicated to interpret when analyzing violations that may have contributed to the crash.
The Difference Between a Truck Accident and a Crash
Our truck accident lawyers assert that accidents involving semi-trucks should really be referred to as crashes or collisions instead. Semi-truck crashes or collisions often involve drivers who ignore potential hazards or break laws. In some cases, they may involve defective vehicle parts as well. The word "accident" implies that nobody, in particular, was at fault for the wreck.
Large Truck Operating Complexities Put Motorists at Risk
There are many intricacies involved with the operation of a semi-tractor trailer truck. These complexities may increase the risk of truck accidents occurring.
Different types of trailers
Semi-trucks often pull various types of trailers. These trailers can include:
Different types of trailers require knowledge and skill on the part of the truck driver that is unique to the trailer and/or product that is hauled.
Stopping distance
Another major difference to consider between cars and semi-trucks is the length of the distance it will take for the truck to stop versus the stopping distance of a much lighter car or automobile. When a regular-sized passenger vehicle is moving at 65 mph, it will need approximately 300 feet to stop. A fully-loaded commercial truck traveling at the same rate of speed, however, will generally require about 600 feet to stop.
Brake systems and jackknifing
Semi-trucks and their trailers are often equipped with different types of braking systems. Some use air brake systems with compressed air. Mechanical braking systems may be used on others. When braking systems are not properly maintained, they are more likely to malfunction. If a malfunction occurs, the braking system could fail to activate, causing the truck to move full speed ahead, or the brakes could lock up the drive axles, causing the semi to jackknife.
Licensing requirements
Licensing requirements often vary in the trucking industry depending on what the trucker is hauling. They may also vary from state to state. Federal regulations guide interstate commerce and the operation of semi-trucks. If a truck accident or crash occurs and license violations are involved, the trucker and the company he or she works for may be able to be held accountable.
Investigating Truck Accidents
In truck accident claims where it is suspected that the truck driver may be at fault, our injury attorneys will conduct an investigation targeting the truck itself and whether it has been consistently inspected and maintained properly. We will evaluate the cause of the accident, and look for underlying reasons that could have contributed to the crash.
Since a thorough preliminary investigation into every contributing factor to a semi-truck collision or crash is essential, your truck accident lawyer may employ the service of an accident reconstructionist to ensure nothing is missed. Our accident law firm will perform the following types of investigation and/or evidence preservation.
Accident scene investigation
Maintenance records
Inspection records
Logbook inspections
Event data recorder downloads
Driver's record histories
An investigation should go much deeper than an inspection of the police report from the investigating law enforcement agency. Our truck accident lawyers will conduct an analysis of the policies and procedures of the trucking company in addition to the:
Driver's experience
Driver's employment records
Driver history
Performance evaluations
Safety director credentials involvement investigations
Type and amount of insurance
Maintenance schedules
Preventative maintenance inspections
Level of experience
Company's mechanics
How drivers are paid
Drugs, Alcohol, and Prescription Medication
Federal regulations require employers to test truckers for alcohol and controlled substances as soon as practicable after certain types of accidents. Our law firm will also investigate whether a truck driver was under the influence of drugs, alcohol, or prescription medication at the time of the crash. If it is suspected that the trucker may have been impaired when the accident happened, we will subpoena toxicology reports.
Physical Qualifications of Truck Drivers
Commercial truck drivers are required to pass Department of Transportation medical exams to maintain their ability to operate. Drivers may be evaluated in light of abrupt schedule changes, rotating work schedules, disturbance in sleep patterns, trip fatigue, extended time away from family and friends, loading and unloading of cargo, extreme variances in vibration noise, and temperature.
Truck and Tractor Inspections
Federal regulations require trucks to be inspected and repaired on a routine basis. Failure to inspect and identify defects in the trucks operating equipment can proximately cause crashes or collisions resulting in major injury or death.
Root Cause Analysis
Root cause analysis is the process of discovering problems and conditions which were causative to a crash or collision. This analysis is typically performed by insurance companies, trucking companies, or other interested parties to determine the causes of crashes. This method of problem-solving is sometimes used by trucking companies and insurance carriers in a pre-crash or pre-collision situation where discovery could be conducted to determine the existence and/or knowledge of risk factors before truck accidents happen.
Alternatively, in a post-accident root cause analysis, factual inquiries are often conducted to determine the exact nature and cause of the accident. This information is helpful in determining liability and negligence.
A root cause analysis may look at the following factors in determining the cause of a crash or collision:
Traffic flow interruptions
Roadway related factors
Driver fatigue
Weather-related factors
Maintenance issues
Defective equipment
Alcohol/drug impairment
Driver experience/qualifications
Applicable truck accident statutes and laws
In addition to Federal and State regulations and any other applicable motor vehicle codes or DOT regulations, various statutes can be helpful in the investigation and analysis of bringing forth a truck accident claim:
Wrongful death statute
Spoliation of evidence
Negligent entrustment
Joint and several liability
Punitive damages
Vicarious liability
Check our blog resources on motor vehicle accidents:
Free Consultation with a Truck Accident Lawyer in Peoria​
Contact Strong Law Offices today. From our convenient law offices in Peoria, Chicago, Bloomington, and Springfield, we represent clients throughout Illinois.
Other Motor Vehicle Accident Cases Strong Law Offices Handle
Our car accident lawyers at Strong Law Offices handle a variety of motor vehicle accident cases, including but not limited to:
Our experienced personal injury lawyers, medical malpractice attorneys, and workers' comp lawyers can help you make the most of your truck accident claim.
Call the truck accident lawyers at Strong Law Offices for a free, no-obligation case evaluation.