Illinois
Train Accident Lawyer
Are you suffering from a serious injury as the result of a train collision or accident? Are you and your family overwhelmed with extensive medical bills? Do you need help getting a proper medical examination and access to rehabilitation? The train accident lawyers at Strong Law Offices are here to help.
Many of the worst train accidents occur on known pathways — places where people cross the tracks on foot. Other litigated cases involve crossing gates. We conduct research to learn if the pathway, or that crossing gate, has a history of accidents, and what the railroad did in response to previous accidents.
If you were injured in a train accident, call the train accident lawyers at Strong Law Offices to recover compensation. Free consultations.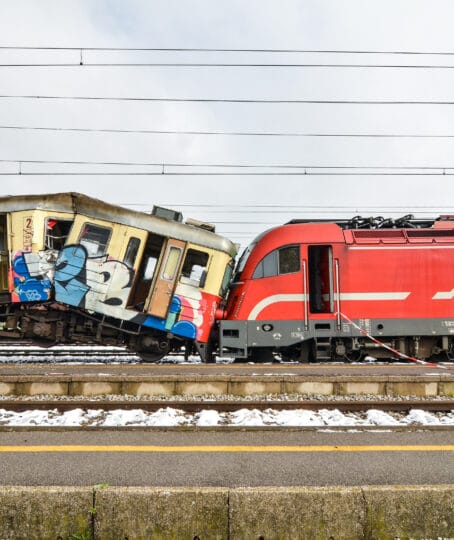 Experienced Train Accident Attorneys
At Strong Law Offices, we are experienced train accident lawyers who are prepared to take on your case and advocate for you. Our law firm has office locations in Peoria, Bloomington, Springfield, and Chicago, and serves individuals throughout the Central Illinois area in personal injury, accident claims, and Illinois workers' comp claims.
We focus on only representing injured people and never side with corporations or insurance companies. Our attorneys dedicate all resources to helping injured individuals get the medical treatment and benefits they deserve for their injury or loss. If you or a loved one is facing serious injuries that are preventing you from working and living your life as you were before the accident, contact Strong Law Offices for assistance.
Train accident injury claims are complex and often involve litigation. Because these claims are challenging, it is important you work with an experienced lawyer who is highly familiar with the laws and regulations involved in these claims. Our lawyers have handled cases throughout the entire state. We are prepared to advocate for you if you have been in a negligent train accident caused by:
Failure to inspect equipment
Excessive speeding
Failure to comply with regulations
Crossing gate malfunctions
Negligent operation of the train
Contact Our Train Accident Attorneys
​Interested in a free initial consultation? Contact our firm at 309-688-5297. We are available to make off-site, evening, and weekend appointments at your request.
Other Motor Vehicle Accident Cases Strong Law Offices Handles
Our car accident lawyers at Strong Law Offices handle a variety of motor vehicle accident cases, including but not limited to:
Our experienced personal injury lawyers, medical malpractice attorneys, and workers' comp lawyers will help you make the most of your train accident claim.
When You Have Been Injured, Get Strong. The Train Accident Lawyers At Strong Law Offices Are On Your Side.