Neck Injury Lawyer

in Peoria

A strained neck, a herniated cervical disc or a fractured vertebra in your neck can affect almost every aspect of your life. In addition to neck pain, you may also suffer from headaches, arm or shoulder pain, and numbness or tingling in your hand or fingers.

You may find it difficult to turn around when backing up your car. Typing or holding the phone may cause increased pain. Lifting up your child or getting a good night's sleep may be impossible because of your neck injury.

At Strong Law Offices, our neck injury lawyers are passionate about protecting your rights in lawsuits and workers' comp claims related to neck injuries and spinal cord injuries.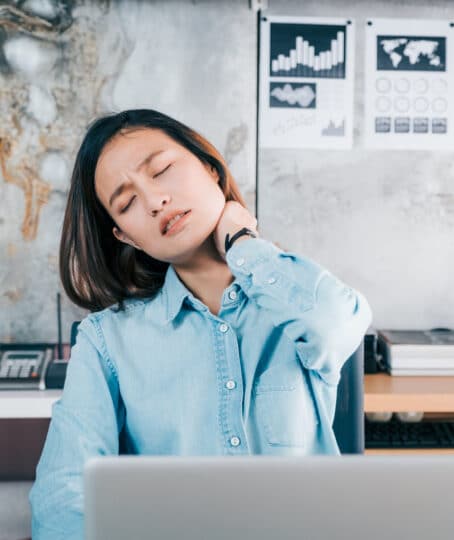 We Fight Hard to Obtain Maximum Compensation for Neck Injuries
If you injured your neck on the job or in a car accident caused by someone else's negligence, you deserve compensation for your losses. Working with an aggressive injury and accident lawyer can improve your chances of obtaining the workers' compensation benefits or personal injury settlement you deserve.
Neck Injury Lawyers Protecting the Rights of Injured People Throughout Central and Northern Illinois
​From offices in Peoria, Chicago, Springfield and Bloomington, we represent people with neck injuries throughout Central Illinois and in Northern Illinois locations such as Joliet, LaSalle, Ottawa, Kankakee, and Will County.
Our attorneys have the legal skills and medical knowledge needed to successfully handle claims for minor neck injuries and serious and disabling spinal cord injuries, including:
Muscle sprain or strain
Herniated or ruptured discs in the neck
Bulging or slipped discs in the neck
Neck injury requiring disc removal, disc replacement or cervical fusion surgery
Nerve impingement
Fractured cervical vertebrae
Spinal cord injury
Back injuries frequently result from workplace accidents such as a slip-and-fall accident, repetitive or heavy lifting or a construction site accident. Many employees are at special risk for back injuries, including:
Warehouse workers, delivery persons and others who do heavy lifting
Nurses and health care aides who transfer patients
Construction workers, carpenters, roofers and other laborers
Truck drivers, traveling salespeople and others at risk for truck and car accidents
If your neck injury happened at work, your employer and the workers' comp insurance company may try to deny the diagnostic tests, medical examination, and treatment you need. We fight hard to help you get the medical treatment you need after a work injury. Depending on the facts of your case, you may qualify for lifetime medical benefits for treatment of a work-related neck injury.
Obtaining the Benefits You Deserve
We fight hard to maximize your workers' compensation benefits after a work-related back injury. We will file a workers' compensation claim to collect the workers' comp benefits that you are entitled to receive. There may also be third-party liability claims against equipment manufacturers and other negligent entities besides your employer.
Medical Benefits: If your back injury took place on the job, we can help you get the medical treatment you need. Our attorneys stay on top of the medical literature and surgical techniques related to all types of lumbar and thoracic spine injuries. We fight for your right to treatment with the top doctors who use the most advanced medical techniques. We work hard to help you receive the best health care money can buy, including treatment from orthopedic spine surgeons, neurologists and neurosurgeons, pain management clinics, physical and occupational therapists, and other medical professionals who specialize in the treatment of back injuries.
You may also qualify for lifetime medical benefits related to your injury.
Wage Loss Benefits: Under Illinois workers' compensation laws, you are entitled to wage loss benefits if you are unable to work because of your back injury. Wage loss benefits are payable during the initial period of recovery. They may also be payable later if you are permanently disabled from working, or you can only return to a lower-paying job after your back injury.
Benefits After Maximum Medical Improvement: After you have recovered as much as can be expected from your back injury, you may be entitled to other benefits after you have reached MMI. Retraining benefits, permanent partial disability, temporary partial disability, permanent total disability or a lump-sum payment are some of the possible benefits you may be entitled to depending on the circumstances.
We regularly take workers' compensation cases involving cervical spine and neck injuries to arbitration at the Illinois Workers' Compensation Commission and succeed in obtaining these benefits for our clients.
No Compensation, No Fee
At Strong Law Offices, we handle all workers' compensation and personal injury claims on a contingent fee basis. In other words, you pay nothing unless we collect a settlement or recovery on your behalf. In workers' compensation claims, our fees are determined by Illinois statute.
Contact Our Neck Injury Attorneys for a Free Consultation
​For aggressive representation related to neck injuries, contact Strong Law Offices for a free initial consultation by calling 309-688-5297. We pledge to provide a high level of service to you and to return all your phone calls and emails promptly.
We have convenient office locations in Peoria, Chicago, Bloomington, and Springfield and represent clients throughout Illinois.
When you have been hurt, it's time to get strong. Contact our neck injury lawyer.