Peoria
Electric Shock Injury Attorney
If you or a loved one has suffered a shock injury in the workplace, you deserve representation from an experienced electric shock injury lawyer who will advocate for your rights. You need sound, skilled and competent legal counsel from someone who cares about the outcome of your situation.
At our work injury law firm, our attorneys have more than 25 years of experience helping injured employees. We are working lawyers for Working People.
Are you an electrician who was injured on the job? Call the Illinois electric shock injury lawyer at Strong Law Offices. Free consultation.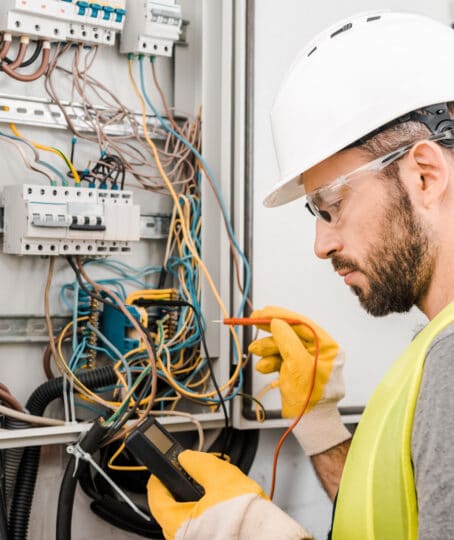 The electric shock injury attorneys at Strong Law Offices serves people throughout the state of Illinois in workers' compensation and personal injury claims. From our offices in Peoria, Bloomington, Springfield, and Decatur, our lawyers are entirely committed to helping those who have been injured or suffered a loss from a negligent accident or work-related accident.
​We only represent injured people, never siding with the insurance company or large corporations. This means we understand how to identify key factors in your claim and successfully prove the impact that your workplace injury has had on your life. Our lawyers take time to explain your legal options and work efficiently to make certain your claim is filed in the most timely manner. If you've been injured, get Strong.
We understand the physical and emotional strain of suffering an injury and will work to make certain your claim is filed as soon as possible. Our attorneys will explain to you the available benefits and identify a strategic route to take in order to maximize your claim. We are also experienced in handling claims involving union and nonunion electricians in work-related accidents.
We frequently work with electricians suffering from a wide range of injuries from workplace accidents, including:
Repetitive trauma injuries
Repetitive use injuries
Nerve damage
Neck and back injuries
Electrocution
Contact Our Electric Shock Injury Attorneys
​Are you interested in talking to one of our attorneys? We offer free initial consultations. Call our firm at 309-688-5297, or contact our firm online. We have convenient office locations in Peoria, Chicago, Bloomington, and Springfield and represent clients throughout Illinois.
You will be interested in these resources:
Call the Peoria electric shock injury attorney at Strong Law Offices. Free consultation.