Illinois
Farming Accident Attorney
In addition to the dangers of dealing with livestock, people who work in the farming industry work with heavy machinery on a daily basis. This raises their risk of suffering a serious on-the-job injury. Your employer may be held liable if you are injured while working on a farm, and you can recover compensation through filing a personal injury claim or lawsuit.
Our experienced farming accident attorneys are here to walk you through the legal process. We will negotiate with the insurance companies to seek the maximum amount of compensation on your behalf.
We are the team at Strong Law Offices. Our accident attorneys represent injured workers throughout Central Illinois in workers' compensation and personal injury claims. We take an aggressive stance against the insurance company and fight to get our clients the maximum amount of benefits and compensation possible.
If you were injured in a farming accident, call the Illinois farming accident attorneys at Strong Law Offices. Consultations are free.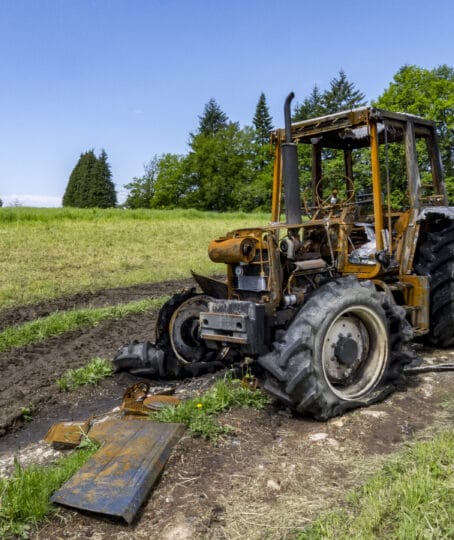 Farmers' and Workers' Comp Claims
​In Illinois, most farmworkers are exempt under workers' compensation insurance. However, you are still able to recover compensation for your workplace accident if a farming accident attorney can prove your employer or another employee of the farmer is negligent. Your work accident claim will be treated just like a personal injury case. Our attorneys will also evaluate your claim to determine if there was negligence by a third party. If so, we can file a damages claim for additional compensation. Farming accidents and injuries can be severe.
Failure to train or provide for a safe work environment, taking shortcuts in safety, or removal of safeguards in equipment can lead to a major injury. The farming accident attorneys at Strong Law Offices investigate how the accident occurred and what negligent acts or omissions approximately caused the injury. We have handled many claims against many types of farms such as hog farms, cattle farms, wind farms, windmill construction, irrigation or drainage operations, chemical or fertilizer exposure, and commercial farms.
When handling an accident at a farming operation, it is very important to look at and investigate the nature of the farming operation. If the farming operation is not purely of a farming nature, it is possible that the Illinois work injury laws will apply, and the farmer will lose the protection of the farmer's exemption to workers' compensation claims — for example, if the farm is operated for a dual purpose such as a trucking operation.
Farming Accident Attorneys Advocating for Injured Farmworkers
​Our Illinois farming accident attorneys have helped people suffering a wide range of injuries from situations involving:
Negligent handling of livestock
Defective farm equipment
Exposure to toxic chemicals
Exposure to fertilizer
Negligent inspections of work equipment
Failure to provide proper safety equipment
Contact Our Farming Injury Attorneys
Please contact us to schedule a free consultation. Home, hospital, off-site, and weekend appointments are available by request.
We have convenient office locations in Peoria, Chicago, Bloomington, and Springfield and represent clients throughout Illinois.
You will be interested in these resources:
Call the Illinois farming accident lawyers at Strong Law Offices