Swimming Pool Accident Lawyer
Swimming pools are a source of enormous enjoyment for millions of people. Sometimes they are also a source of great sorrow, as when a swimmer is injured or drowns.
Every year we lose more than 3,900 victims to swimming accidents. Many more are seriously injured, suffering brain damage, coma, broken bones, and contusions. Accidents happen in public pools, private residence pools, motel and hotel pools, hot tubs, and water parks.​
Did property owner negligence cause your swimming pool accident? Call our swimming pool accident lawyer at Strong Law Offices.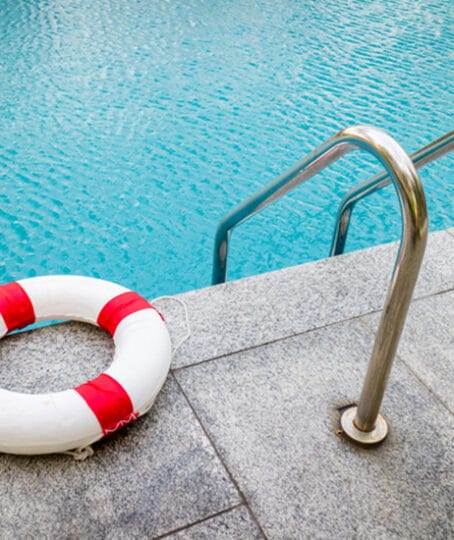 Strong Advocates for Victims of Swimming Pool Accidents
Do you need a swimming pool accident lawyer in Illinois? At Strong Law Offices, we have sought and obtained compensation for families who have lost little ones due to the negligence of pool owners or the manufacturers of related products. We were recently involved in a large public case regarding pools and child safety. We were successful in winning a large judgment for our clients.​
We investigate each case carefully, to ensure that the swimming area was appropriately supervised and that proper safety equipment was in use. We look for such things as infrared motion detectors, effective and snug pool covers, and even closed-circuit camera systems to keep an eye on activities in the pool.​
Swimming pool cases sometimes turn on premises liability issues. If someone fell by the pool, we look to see if the deck was properly cleaned. Was there a slippery liquid on the surface? Such cases require exhaustive research and emphatic representation. Insurance companies do not wish to pay a dime more than necessary, so it is important to present a strong and persuasive case.
How Does Contingency Payment Work?
In personal injury cases, contingency payment means you can initiate a suit for recovery without digging into your savings. We represent you, but you owe us nothing until we produce results for you.
Hire a Swimming Pool Accident Law Firm That Produces Results
Contact the Peoria personal injury lawyers today at 309-688-5297. Schedule a free initial consultation at one of our convenient offices in Peoria, Bloomington, Springfield, and Chicago. We are available to meet at your home or at your hospital bed, at your request.
You will be interested in these personal injury resources:
Call our swimming pool accident attorney at Strong Law Offices. Free consultation.