Taxi Accident Lawyer
Cab drivers and taxi drivers are notorious for their aggressive driving tactics and valuing the dollar more than the safety of their passengers. Taxicabs are frequently involved in collisions and accidents that could have been easily avoided if reasonable care had been exercised. When these accidents occur, our taxi accident lawyers step in to hold the negligent person accountable.
Taxicab drivers oftentimes are overworked and underpaid. Drivers sometimes do not get enough rest, causing severe fatigue and inattention to the safety of their passengers. They may engage in distracted driving by using GPS, texting while driving or talking on their cellphones. They may even lack proper training. These drivers may drive negligently, causing taxicab accidents that injure their passengers.
If you have been injured by a negligent taxi driver or otherwise involved in a taxicab accident, contact the attorneys at Strong Law Offices to determine whether you are eligible to make a legal claim for compensation or for reimbursement of your medical bills, lost wages, pain and suffering, or permanent injury.
If you were injured in a taxi accident, call the taxi accident lawyers at Strong Law Offices to recover compensation. Free consultations.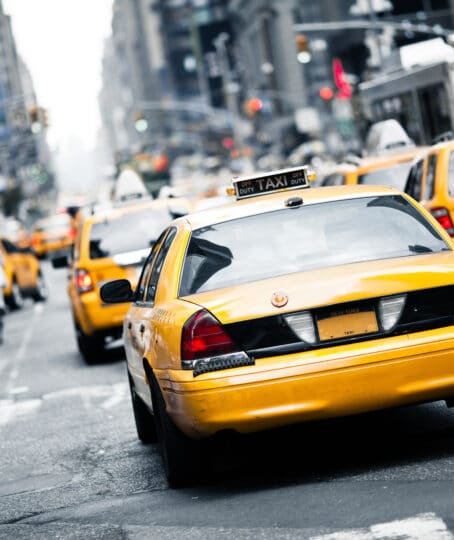 Free Consultation With A Taxi Accident Lawyer
Call our attorneys at 309-688-5297, or feel free to contact us online. We offer free initial consultations. If you can't come to our offices in Peoria, Chicago, Bloomington, or Springfield, we will come to you, whether that is in your home, at the hospital, or elsewhere.
Other Motor Vehicle Accident Cases Strong Law Offices Handles
Our car accident lawyers at Strong Law Offices handle a variety of motor vehicle accident cases, including but not limited to:
Our experienced personal injury lawyers, medical malpractice attorneys, and workers' comp lawyers will help you make the most of your recovery.
When You Have Been Injured, Get Strong. The Strong Taxi Accident Lawyers Are On Your Side.