Ironworker Injury Lawyer

in Peoria, Illinois

If you suffered an injury in the workplace, no matter how minor or serious, it is a smart idea to seek legal advice from an experienced workers' compensation lawyer. An experienced attorney will understand how to negotiate with the insurance company and how to maximize the amount for your claim.

At Strong Law Offices, we have the experience you are looking for. From our offices in Peoria, Springfield, Bloomington, and Chicago, we represent individuals who have been injured in negligent accidents on the job in Illinois workers' compensation claims. We understand the effect a workplace injury can have on you and your family. This is why we dedicate all our resources to asserting the rights of injured people throughout Illinois.

Are you an ironworker who has been injured on the job? Call our workers' compensation attorneys at Strong Law Offices for a free consultation.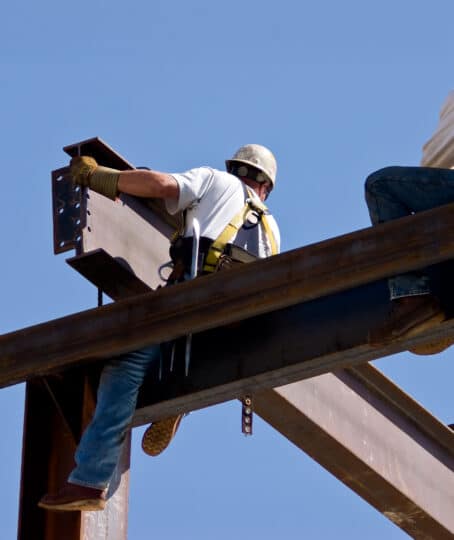 Strong Law Offices Helping Iron workers With Serious Injuries
​Ironworkers frequently suffer injuries such as ruptured disks, ruptured vertebrae, and neck, back, and spine injuries from repetitive and heavy lifting motions. Typically, these injuries are not considered repetitive trauma injuries, but injuries caused by lifting large amounts of steel in a specific event. Ironworkers often work at great heights and in large construction projects involving multiple contractors.
Ironworkers are required to have the physical ability to perform heavy-duty job tasks. In the event that an ironworker is disabled from returning to his previous occupation, wage loss benefits may be appropriate. Strong Law Offices fights to pursue all available benefits and rights.
Regardless of how your injury occurred, you deserve competent medical treatment and compensation for your on-the-job injury. At our firm, we have significant experience in handling these claims and understand what aspects of your case need to be evaluated in order to fully support your claim.
Our attorneys will help you with everything from getting proper medical treatment, to the filing of your actual claim. We will take time to explain the types of workers' compensation benefits you may be entitled to, and use all available resources to maximize your claim.
Contact Our Iron workers Injury Attorneys
​At Strong Law Offices, we offer free initial consultations and are available to make off-site or evening appointments by request. To schedule a consultation at our Peoria, Bloomington, Springfield, or Chicago offices. Contact us at 309-688-5297.
You will be interested in these workers' comp resources:
Are you an ironworker injured on the job? Call our workers' compensation lawyers at Strong Law Offices for a free consultation.