Traumatic Brain Injury Attorney

Peoria

A traumatic brain injury attorney with Strong Law Offices will help you through the process of filing a personal injury claim or a claim for workers' compensation benefits in Illinois.

Brain injuries ranging from concussions, skull fractures or post-concussion syndrome can occur when a victim is injured in a slip and fall accident, a car accident, or in an incident in the workplace. Direct or indirect trauma from a sudden jarring or fall can lead to serious brain injuries.

If you were hurt, Strong Law Offices will stand by your side. Our traumatic brain injury attorneys are committed to providing quality legal representation for clients. We offer highly personalized attention and strong advocacy throughout all steps of the legal process.​

Did you suffer a head injury caused by negligence? Call a traumatic brain injury attorney at Strong Law Offices.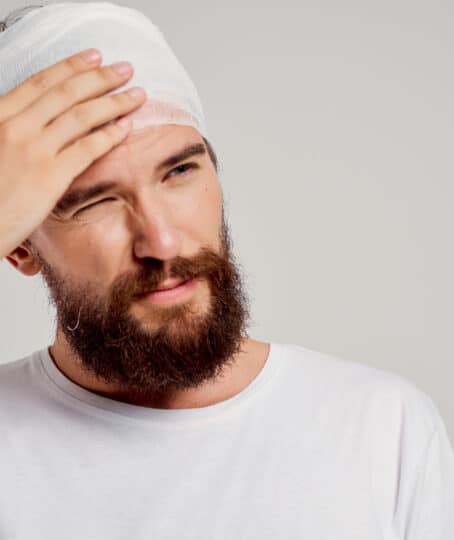 You Need a Traumatic Brain Injury Attorney Protecting You — The Injured Worker
Suffering a brain injury at work will directly affect many aspects of your life. If you are unable to provide for your family and return to work promptly, you need workers' compensation benefits to pay for lost wages and medical treatment.
Our traumatic brain injury attorneys have represented people suffering a wide range of serious injuries, including head trauma and complex traumatic brain injuries. We understand the challenges that our clients are facing, and are here to help them get the short- and long-term benefits they need to recover from the injury.
We have represented people working in all types of professions, including farmworkers, airline workers, welders, police officers, truckers, workers in the meatpacking industry, out-of-state workers, and more.​
Access to Advanced Medical Care
​At Strong Law Offices, our personal injury lawyers understand workers' compensation claims from both a legal and medical standpoint. We know the nature of many types of injuries and what type of medical treatment is necessary to start the recovery process. Our ability to effectively communicate with physicians gives us leverage in maximizing our clients' workers' compensation and personal injury settlements.
Our lawyers have the resources and tools necessary to ensure that you get to an appropriate medical professional who can help with your injuries. We fight to make certain that our clients receive the most advanced and up-to-date medical treatment.
Contact a Traumatic Brain Injury Attorney at Strong Law Offices
Our Illinois brain injury attorneys will help you obtain the benefits you deserve. Contact Strong Law Offices to schedule a free, no-obligation consultation. Call us at 309-688-5297 or contact us online. We have office locations in Peoria, Bloomington, Springfield, and Chicago, and are happy to make the evening, weekend, and off-site appointments.​
You will be interested in these resources:
Did you suffer a head injury caused by someone else's negligence? Call the traumatic brain injury lawyer at Strong Law Offices.