Illinois
Talcum Powder Lawyer
Use of talcum powder has been linked with ovarian cancer. Some scientists believe that talcum particles can migrate to the ovaries, causing inflammation and increasing the risk of cancer.
In February 2016, a jury in St. Louis hit Johnson & Johnson with a $72 million judgment. The jury found that the company was negligent in failing to inform consumers about the potential dangers of using talcum powder.
Johnson & Johnson, the manufacturer of Baby Powder, Shower to Shower, and other talcum-based products, is now facing more than 1,200 lawsuits in which plaintiffs allege they were not warned about the risks of using talcum powder.
Talcum powder has been linked to ovarian cancer. Call the talcum powder lawyers at Strong Law Offices.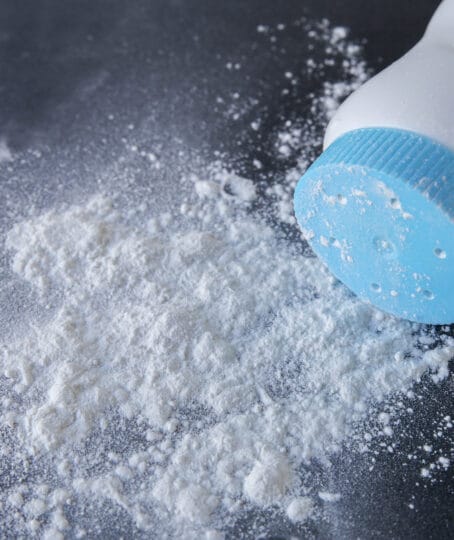 Advocates for Victims of Corporate Negligence
​Strong Law Offices, headquartered in Peoria, is a team of attorneys that represents people throughout Illinois who have been harmed by dangerous prescription drugs and over-the-counter products. Our talcum powder lawyers are currently evaluating talcum powder cases for possible litigation.
​If you have used a talcum powder product on a regular basis and have contracted ovarian cancer or another type of gynecological cancer, call us today at 309-688-5297. In a free consultation, a talcum powder attorney can review your case and explain your legal options.
Our Talcum Powder Attorneys Have the Resources and Technical Skills Needed to Win
​Strong Law Offices has prevailed in numerous mass tort cases. As a successful personal injury law firm, we have the financial resources, technical knowledge, and advocacy skills needed to win against deep-pocketed corporations. We frequently join forces with other law firms in Multidistrict Litigation when seeking compensation for our clients.
You deserve answers, accountability, justice, and compensation. When representing you, we will seek the best possible jury award or settlement for you.
You will be interested in these personal injury resources:
​Free Consultation
Contact the product liability lawyers at Strong Law Offices to schedule a free initial consultation. We have office locations in Peoria, Chicago, Bloomington, and Springfield, and we represent clients throughout Illinois. Our talcum powder attorneys, Stryker lawyers, and transvaginal mesh lawyers can help you recover.
Are you a victim of corporate negligence? Call our talcum powder lawyers at Strong Law Offices.