Slip and Fall Lawyer

in Peoria, Illinois

The financial burdens that accompany slip and fall accident injuries should not be left on victims' shoulders. When a property owner or manager is negligent and someone gets hurt, the responsible party can be held liable for lost wages, pain and suffering, medical bills, and more under a legal theory known as "premises liability".

The Peoria slip and fall attorneys at Strong Law Offices have been helping victims of slip and fall accidents and other incidents caused by dangerous property conditions for more than 25 years.

If you were hurt, call our office to schedule your free, no-obligation consultation with a slip and fall attorney.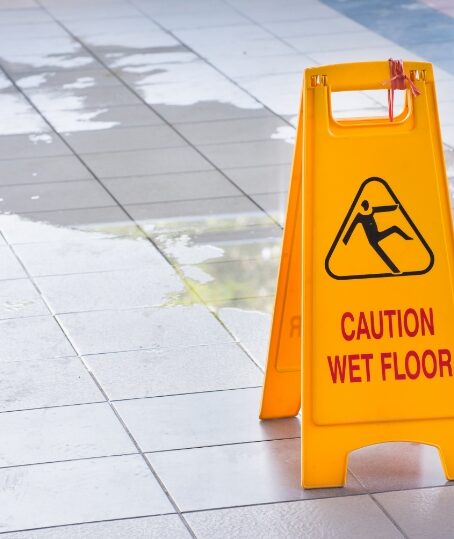 What Is Premises Liability?
A slip and fall attorney files injury claims and lawsuits based on the legal theory of premises liability. Under premises liability law, property managers, owners, and a number of other entities owe a duty to their invited guests to exercise reasonable care in maintaining and repairing their properties to ensure they are safe. When a dangerous condition on someone else's property causes a victim to be hurt, a premises liability case may arise.
Types of Premises Liability Cases
Hazard exposures, fires, explosions, or criminal acts can form the basis of liability for property owners, occupiers, vendors, purchasers, managers, or contractors. Some of the most common types of premises liability cases a slip and fall attorney sees include:
Slips, trips, and falls
Dog bites
Exposures to hazardous substances
Fires and explosions
Where and Why Slip and Fall Accidents Occur
Slip and fall accidents can happen in almost any setting, but they are particularly common in nursing homes when older adults and people with disabilities are left unattended. Between 50% and 75% of nursing home residents fall each year.
Many types of dangerous property conditions can cause injury on a property.
Poor construction
Faulty design
Inadequate maintenance
Substandard building materials
Manufacturing defects
Wet or slippery floors in grocery stores or retail merchandise stores
Floors that are wet or slippery from spills, tracked in rain, or cleaning products often cause same-level falls. If property owners, occupiers, managers, or cleaning contractors do not clean up wet floors promptly, or at least post warning signs until they can be attended to, a slip and fall attorney can help victims file a lawsuit to hold them liable when invited guests are injured. These types of claims often come down to whether or not the store owner knew or should have known that such a condition existed and that there was sufficient and adequate time for the hazardous condition to be identified and cleaned up.
Inadequate Lighting
A slip and fall attorney often sees injury cases arise when inadequate lighting in stairwells, hallways, and parking lots cause unsuspecting guests to trip and fall over unseen obstacles or damaged flooring. While falls in poorly lit hallways and parking lots can lead to serious injuries, inadequate lighting in stairwells is especially dangerous.
Dangerous Stairways
When handrails are missing, loose, or damaged or steps are damaged, dangerous slip and fall accidents can occur. In the United States, over 1 million people are injured in stairway falls every year.
Unfortunately, these dangerous property conditions often occur at:
Apartment Complexes and Multi-Unit Properties
Large apartment complexes and multi-unit properties oftentimes have property owners and occupiers as well as management companies and subcontractors who are responsible for various aspects of the maintenance and upkeep of the property. Property managers are often charged with a contractual duty to inspect the property for defects. Insurance carriers, prior to writing premises liability insurance policies, often have outside independent contractors perform property inspections to identify any dangerous conditions existing on the property.
Hotels, Motels, and Common Carriers
Hotels, motels, and common carriers, such as taxis, buses, and innkeepers often owe a reasonable duty of ordinary care to their customers and/or patrons. A thorough investigation of the facts and circumstances, the security environment, the environment of the neighborhood, can reveal any dangerous conditions that can lead to injuries.
Hotels and motels that voluntarily undertake to provide security measures to protect patrons or guests on the property must do so in a reasonable and safe manner.
In ride-share situations, a slip and fall lawyer will investigate the level of insurance available and any apparent agency relationships between drivers of ride-share vehicles and the ride-share apps that bring a rider and a driver together in a common carrier situation.
Common Injuries Sustained in Slip and Fall Accidents
Slip and fall accident injuries lead to approximately 9 million visits to the emergency room each year. In some cases, victims of slip and fall accidents suffer relatively minor injuries, and they recover fairly quickly. In other cases, however, victims' injuries are disabling or even deadly. The World Health Organization reports that slip and fall accidents are the second leading cause of death worldwide.
Common injuries caused by slips and falls include:
Broken Bones
Soft Tissue injuries
Cuts and Abrasions
Neck and Shoulder Injuries
A Slip And Fall Accident Lawyer Will Assess Your Case
To understand the underlying basis for which premises liability may be assessed, modified, or avoided, a comprehensive analysis of the facts and circumstances of how and when a person has fallen or was injured and where the accident occurred should be performed by an experienced slip and fall attorney. Our premises liability lawyers will assess:
the status of the property owner where the slip and fall accident or other serious injury occurred.
the legal duty of the property owner at the time of the accident and whether that duty was owed to the accident or slip and fall victim.
whether a dangerous condition existed on the premises that proximately caused the injury to the accident victim.
the damages that resulted from the slip and fall or dangerous condition.
Identifying Responsible Parties
Many types of property owners can be held liable for a slip and fall accident. A slip and fall attorney can help ensure a premises liability claim is brought against the responsible party. All potentially responsible parties should be considered. Responsible parties can include:
Residents, owners and occupiers
Adjacent landowners
Landlords and tenants
Contractors and subcontractors
Architects and engineers
Schools
Municipalities and governmental entities
Common carriers
Motels/hotels
Grocery stores
Franchisors and franchisees
Property management companies
Under premises liability, multiple parties might be partially responsible for injuries occurring on a property.
Establishing Whether a Duty of Care Existed
For a claim to be successful, a slip and fall lawyer must establish that the owner or occupier of the property owed a duty of care to the injury victim. A property owner has a duty to correct dangerous conditions that the owner or occupier knew or reasonably should have known about on the premises.
If the dangerous condition cannot be corrected right away, the responsible party has a duty to warn guests of its existence. Landowners and occupiers also have a legal duty to inspect their property on a regular basis.
If a landowner knew or should have known of a dangerous or hazardous condition and failed to take corrective action, and that defective condition caused an injury, the property owner or occupier can be liable for any slip and fall accident injuries.
Many factors are analyzed, examined, and investigated to determine the duty owed by the premises or property owner or occupier.
Foreseeability that the property owner's or occupier's conduct will result in an injury to another person
The likelihood that an injury will occur
The magnitude or gravity of the burden of guarding against an injury
The consequences of placing the burden of guarding against an injury onto the premises or property owner or occupier
Premises liability and slip and fall accidents also involve a critical evaluation of the following:
Who was injured
When were they injured
How were they injured
What caused the injury
You will be interested in these personal injury resources:
Did property owner negligence cause your slip and fall accident? Call the slip and fall attorneys at Strong Law Offices.