Chicago
Construction Accident Lawyer
If you have been hurt on a construction site, you need an attorney who can help you get full and fair compensation for your injuries. This may be done through a workers' compensation claim, a personal injury lawsuit or both.
In construction accident cases, it is our practice to get on the site as soon as possible and gather evidence of how the injury occurred. We look for the when, where and how of each case. We quickly identify the architect, electrical and plumbing subcontractors, carpenters — anyone who could have been responsible for the injury.
Call the Chicago construction accident lawyers at Strong Law Offices if you have been injured at a construction site. Consultations are free.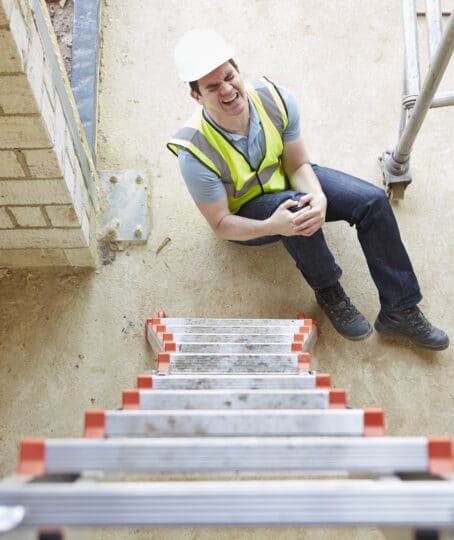 The Strong Solution to Construction Injuries
The construction accident lawyers at Strong Law Offices represent personal injury and construction accident victims throughout Central Illinois.
Call us at 309-688-5297 to set up a free consultation. From offices in Peoria, Springfield and Bloomington, we serve clients throughout Central Illinois and in northern Illinois locations such as Joliet, LaSalle, and Kankakee.
Our Construction Accident Lawyers Help with Workers' Comp and Personal Injury Compensation
If you have suffered a work injury on a construction site, a construction accident lawyer at our law firm may be able to help you file a third-party liability personal injury claim in addition to your workers' compensation claim. A third-party claim may be for damages against the equipment manufacturer, property owner, general contractor, or other negligent third party.
Workers' comp benefits alone may not be enough to cover the damages caused by a construction accident. We aggressively evaluate all construction site actions for potential third-party liability and will seek recovery from all responsible parties, including machinery manufacturers, the property owner, the developer, the general contractor, and any subcontractors.
Types of Construction Accidents
We handle all types of construction accident injuries, including those caused by:
Defective equipment or machinery, including cranes, jackhammers and power tools
Equipment malfunctions
Repetitive stress through use of jackhammers or other vibrating equipment
Falls from ladders and scaffolding
Falling materials, equipment or machinery
Exposure to unsafe chemicals
Construction site explosions
Electrical malfunctions or errors
Unqualified or improperly trained workers
Inadequate safety precautions or inspections
OSHA violations
Cave-ins
If you have been injured while working on a construction job or as a bystander at a construction site, we will conduct a thorough investigation of your case. Our construction accident lawyers will examine the scene of the accident, question witnesses and reconstruct the accident. We will use all of our resources to help you get full and fair compensation for your injuries.
We handle construction accident cases caused on commercial and residential structures, high-rise buildings and road construction sites.
Free Consultation — Contact a Construction Accident Lawyer
​Contact Strong Law Offices in Peoria for a free initial consultation. We pledge to provide a high level of service to you and to return all your phone calls and emails promptly. We have convenient office locations in Peoria, Chicago, Bloomington, and Springfield and represent clients throughout Illinois.
You will be interested in these resources:
Call the Chicago construction accident attorneys at Strong Law Offices if you have been injured at a construction site.