Illinois
Repetitive Work Injury Lawyer
Injuries in the workplace are not always as apparent as a broken bone or as severe as a loss of a limb. In some cases, these injuries can be much more subtle. Nonetheless, if you have suffered an injury in the workplace, you may be entitled to compensation for your injury. At our firm, we will stand up for you and advocate for your best interests.
Strong Law Offices is located in Peoria, Springfield, Bloomington, and Chicago, and serves individuals across the state in workers' compensation and personal injury claims. Our firm is experienced and completely dedicated to helping our clients recover the monetary compensation they are entitled to for their injury.
Are you an office worker who was injured on the job? Call the repetitive work injury attorneys at Strong Law Offices.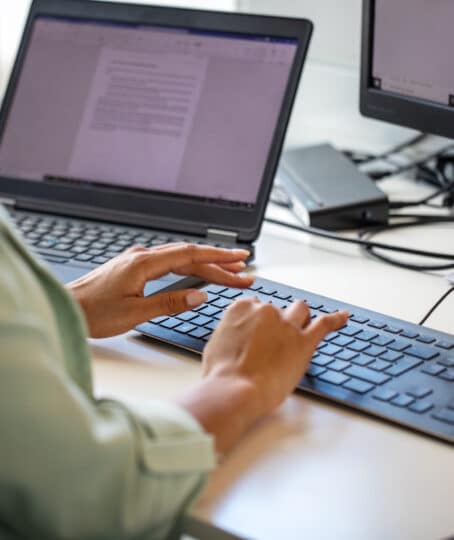 Peoria Repetitive Work Injury Attorneys
Office personnel are often working at a computer for several hours a day. This could be typing, entering data, and frequently moving the mouse near the keyboard. Because individuals spend a significant part of their day at a computer, they are more prone to carpal/cubital tunnel syndrome, or repetitive trauma, or repetitive motion injury.
Insurance carriers oftentimes dispute whether or not typing activities are causally connected or related to repetitive motion injuries such as carpal and cubital tunnel. Strong Law Offices is familiar with the medical literature on both sides of this issue. Insurance carriers often employ expert witnesses to testify that these conditions are not work-related and that there is no medical association or correlation between typing and repetitive motion injuries. Strong Law Offices will fight any of these types of claims and locate medical experts to attempt to refute or rebut any attempt by an insurance carrier to wrongfully deny access to medical care to secretaries or administrative workers who have been injured by repetitive motion.
Timing is of the essence with these claims, so it is important you seek legal advice if you are suffering from a repetitive injury from a work environment. Waiting to file your claim could prevent you from ever being able to collect benefits. At our firm, we will help you get the medical examination necessary to pinpoint the actual cause of the injury and file the claim on your behalf.
It is likely that the insurance company will try to delay or completely deny your claim. This is where we step in. Our lawyers have significant experience dealing with insurance adjusters and understand how to identify the right information to prove the extent of your injuries. It is our priority to always make certain our clients get the benefits they need to recover after a workplace accident or injury.
Contact the Work Injury Lawyers at Strong Law Offices
​Have you suffered an injury in the workplace? Contact our firm today at 309-688-5297. We offer all new clients a free initial consultation and take all cases on a contingent fee basis, meaning you do not pay attorney's fees unless we win a recovery for your claim.
Call a repetitive work injury lawyer for a free consulataion.