Illinois
Cubital and Carpal Tunnel Lawyers
If you work in a job where you use your hands to complete the same motions over and over again, you run the risk of repetitive injury. Data entry and word processing jobs, as well as many assembly line manufacturing positions and other types of manual labor, often lead to hand, arm, and wrist injury, as workers continue to put stress on the same joints.
When the pain or numbness in your hands, fingers, or arms prevents you from working comfortably, you may be entitled to workers' compensation benefits. These benefits may include lifetime medical benefits related to the injury.
You need an attorney who understands carpal tunnel and cubital tunnel injuries, as well as other nerve injuries, and can help you get full and fair compensation.
Do you suffer from carpal or cubital tunnel syndrome? Call the Illinois carpal tunnel lawyers at Strong Law Offices.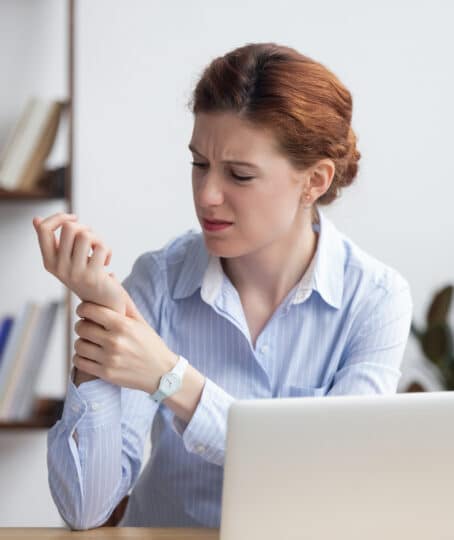 Advocates for Injured Workers Suffering From Carpal Tunnel Syndrome
The carpal tunnel lawyers at Strong Law Offices, we represent injured people, including victims of cubital and carpal tunnel syndrome. We never represent insurance companies or large corporations. We dedicate all our resources and energy to protecting the rights of injured people. From offices in Peoria, Springfield, Bloomington, and Chicago, we serve clients throughout Central Illinois, and in northern Illinois locations such as Joliet, LaSalle, and Kankakee.
What Is Carpal Tunnel Syndrome?
Carpal tunnel syndrome is a condition where the large nerve running from the forearm into the palm of the hand, called the media nerve, is compressed. The media nerve controls some of the movement of the fingers and thumb, as well as sensations in the palm side of the hand. The carpal tunnel is a narrow passage of eight to 10 tendons at the base of the hand, housing the median nerve.
​The tendons are enclosed in a synovial sheath, which helps the tendons move smoothly. When the tendons engage in repeated, limited-range movements, the synovial sheath is irritated and fills with fluid and compresses the median nerve.
​According to the National Institute of Neurological Disorders and Stroke, symptoms of carpal tunnel include:
Burning, itching, tingling or numbness in the palms and fingers, particularly in the thumb, index and middle fingers
Feeling of swelling in the fingers, even though fingers are not swollen
Stiffness in fingers when arising from sleep
Decreased grip strength
Extreme cases of carpal tunnel cause thumb muscles to waste away
The symptoms of carpal tunnel often begin gradually and worsen with time unless treated.​
When you suffer repetitive stress injuries, such as carpal tunnel and cubital tunnel syndrome, you may have a difficult time getting your employer or the company's workers' compensation insurance carrier to provide benefits.
The insurance companies know that repetitive stress injuries can be difficult to prove and will delay or deny your claim, forcing you to take legal action to protect your interests. Our carpal tunnel lawyers know how insurance companies operate and how to deal with them. Put our experience to work for you.
Free Consultation — Contact a Carpal Tunnel Lawyer at Our Firm
​For dedicated representation in cases involving repetitive injuries such as carpal tunnel and cubital tunnel syndrome, contact Strong Law Offices for a free initial consultation. We only represent injured people, not insurance companies. We pledge to provide a high level of service to you and to return all your phone calls and emails promptly.
We have convenient office locations in Peoria, Chicago, Bloomington, and Springfield and represent clients throughout Illinois.
You will be interested in these resources:
If you suffer from carpal or cubital tunnel syndrome, call the Illinois carpal tunnel attorneys at Strong Law Offices.