Illinois
Motor Vehicle Accident Attorney
Through no fault of their own, individuals are often seriously hurt in traffic accidents. These accidents change their lives — and sometimes end them.
Following a motor vehicle accident on the road, there is usually a second collision — with insurance companies that typically don't keep their promise to pay out.
This is why it's essential to have an experienced motor vehicle accident lawyer on your side as soon after the injury as possible. The attorney will inform you of your rights, gather evidence and testimony supporting your story, and answer any questions you have about this difficult, time-consuming part of the law.
Contact the experienced motor vehicle accident lawyers at Strong Law Offices for a free consultation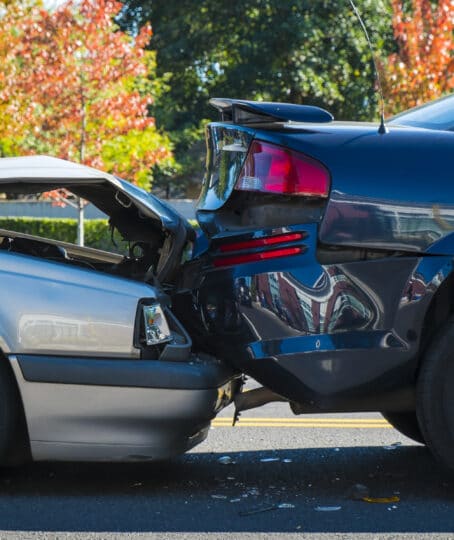 These are some of the most common questions our clients ask our motor vehicle accident attorneys.
Motor Vehicle Accident Lawyer FAQs
​Q. Do I even need a motor vehicle accident lawyer?
A. Yes. Accident lawyers who are familiar with the law can significantly improve your chances of receiving a fair settlement. Insurance companies love when you represent yourself!
Q. How do I choose the right motor vehicle accident attorney?
A. Look for depth of experience, including time in courtrooms. Many so-called trial lawyers have never seen the inside of a courtroom.
Q. How do I pay for medical treatment after an accident?
A. If you have PIP, you can get care. If not, perhaps your doctor can take a lien on your care. We can help you with this problem.
Q. Should I talk to the insurance company representative?
A. Definitely not. If they insist, say, "Talk to my lawyer."
Q. What if the person who hit me doesn't have auto insurance?
A. At Strong Law Offices, we regularly represent victims of uninsured and underinsured drivers. Chances are good that you are still protected, by either your own insurance or an umbrella policy.
There are dozens of other questions people have, depending on the particulars of their accident. No two accidents are alike. That is another reason you need a skilled and persuasive attorney to make your case.
Our Motor Vehicle Accident Practice
Learn more about our motor vehicle accident practice by clicking on any of the links below:
Car crashes — We handle a wide range of accidents, from simple rear-end collisions to accidents caused by distracted drivers or drunk drivers.
Truck accidents — We have the resources necessary to hold truck drivers and trucking companies accountable after catastrophic truck accidents.
Motorcycle accidents — Our firm fights for compensation for people who have suffered life-changing injuries and families of fatal accident victims.
Pedestrian accidents — When a driver hits a pedestrian, the results are often serious or fatal. We can help you and your family recover the compensation necessary to move forward.
Taxi accidents — Were you injured while riding in a taxicab? We can help you determine who is accountable for your accident.
Train collisions — Whether you were injured while riding a train or at a crossing gate, our attorneys can help.
Boat accidents — We handle both recreational and commercial boating accidents that occur on Illinois' waterways.
Check the free resources on our blog:
Free Consultation with a Motor Vehicle Accident Attorney​
Contact Strong Law Offices today. From our convenient law offices in Peoria, Chicago, Bloomington, and Springfield, we represent clients throughout Illinois.
Other Motor Vehicle Accident Cases Strong Law Offices Handles
Our car accident lawyers at Strong Law Offices handle a variety of motor vehicle accident cases, including but not limited to:
In addition, our experienced personal injury lawyers, medical malpractice attorneys, and workers' comp lawyers are here to help injured victims recover.
Contact Strong Law Offices if you are looking for an experience motor vehicle lawyer. Consultations are free.