Peoria
Welder Injury Lawyer
People who work in a dangerous work environment are even more likely than others to face the possibility of being injured in a workplace accident. Welders are frequently using dangerous tools that could easily cause an accident if the tool provided by the employer was defective or hadn't been tested properly before usage. If you have been injured, Strong Law Offices will stand by your side.​
For years, the team at Strong Law Offices has been representing injured workers. We pledge to provide commitment, advocacy and knowledgeable legal advice for our clients. Our firm never represents the insurance company, we only advocate for the injured worker.
Are you a welder who was injured at work? Call the welder injury lawyers at Strong Law Offices. Consultations are free.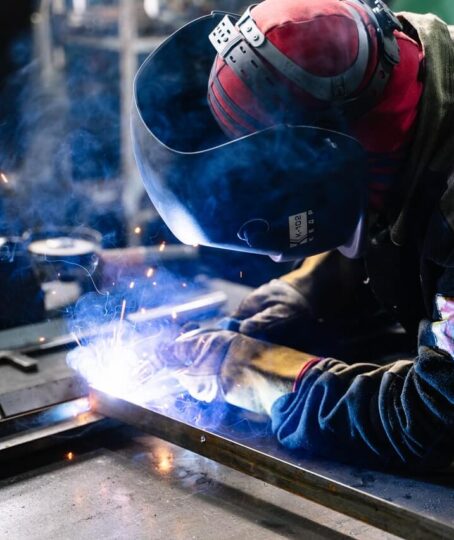 Protecting Injured Welders Throughout Central Illinois
Welders can suffer a wide range of injuries from on-the-job accidents. At Strong Law Offices, we have helped people suffering injuries, including:
Loss of vision
Retina burns
Cubital and carpal tunnel
Nerve injuries
Our Illinois welder accident attorneys have a proven reputation in the area of workers' compensation law. We have represented all types of workers, including out-of-state workers. We know what documentation, types of medical records and evidence need to be presented in order to help maximize our clients' claims.
Welding oftentimes involves repetitive trauma injuries. The gripping and grasping of the hand, the bending and flexing of the elbow and overhead work all subject welders to a high degree of work for nerve injuries. Exposure to vibration from grinders, chippers and other pneumatic tools can lead to severe nerve injury oftentimes requiring a medical specialist to treat and fix. We are familiar with the high degree of force and repetition that welders are exposed to in the workplace.
Contact Our Welder Injury Lawyers
​We want to hear about your situation. Find out how we can help today. Contact our attorneys online or by calling 309-688-5297. We offer free initial consultations and take all cases on a contingent fee basis. This means we do not collect a fee unless we recover compensation for your claim.
We have convenient office locations in Peoria, Chicago, Bloomington, and Springfield and represent clients throughout Illinois.
? Call the welder injury lawyers at Strong Law Offices. Consultations are free.