Foot and Ankle Injury Attorney

in Illinois

Foot and ankle injuries can be the result of many types of negligent actions. For example, workers can be injured from lack of safety gear or defective machinery. Because the foot is a weight-bearing joint, even a simple sprain can affect your ability to complete normal daily activities. If you have been injured on the job in Illinois, you are entitled to workers' compensation. Our foot and ankle injury attorneys can help you file a claim.

Strong Law Offices represents injured workers throughout Illinois. Our firm is entirely dedicated to advocating for individuals who have suffered injuries — meaning we never represent insurance companies or large corporations. Our goal is to provide guidance and support for our clients, while making certain that they receive the compensation that they deserve for their injury or loss.

If you suffered foot or ankle injuries at work, call the Illinois foot and ankle injury attorneys at Strong Law Offices. Free Consultation.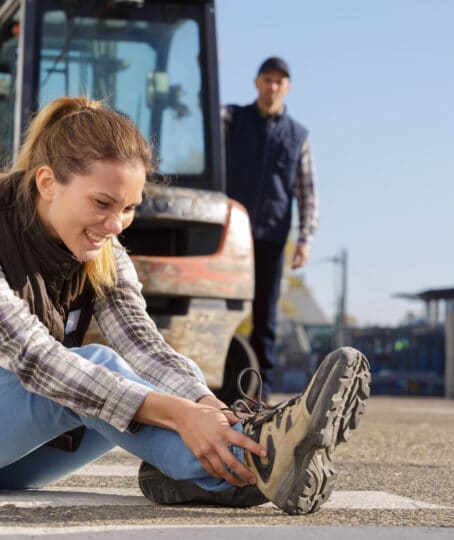 Ankle And Foot Injury Attorneys Standing by Your Side
It takes more than just commitment for a foot and ankle injury attorney to successfully represent an injured worker in a workers' comp claim. At Strong Law Offices, we have in-depth knowledge of workers' compensation law in Illinois and stay up to date with medical literature, so we can effectively communicate with physicians and other medical professionals.
We also have the knowledge necessary to identify errors in insurance documentation or weaknesses in statements regarding the type or severity of the injury that our client is suffering.
Types of Foot and Ankle Injuries
Our Illinois foot and ankle injury attorneys have been successful in representing workers in a wide range of claims, including:
Tibia injuries
Fibula injuries
Distal injuries
Metatarsal and tarsal injuries
Achilles injuries
Tendon injuries
Phalange injuries (toe injuries)
Ankle sprains
Contact a Peoria Foot and Ankle Injury Attorney for an Achilles Tendon Rupture
Call Strong Law Offices today to schedule a free initial consultation. We are happy to book evening, weekend, and off-site appointments to meet your convenience.
We have convenient office locations in Peoria, Chicago, Bloomington, and Springfield and represent clients throughout Illinois.
You will be interested in these workers' comp resources:
Call the Illinois foot and ankle injury attorneys at Strong Law Offices if you suffered foot or ankle injuries at work.