Peoria
Motorcycle Accident Lawyer
Motorcycle riders know all too well that other drivers can be very careless. Many do not see motorcyclists until it's too late.
Others do not understand the biking experience or see the road with the clarity and intensity that bikers do. Road conditions and weather can increase the dangers that motorcyclists face. The result can be a serious or fatal accident.
At Strong Law Offices in Peoria, we stand up for motorcyclists who have suffered life-changing accidents. We work tirelessly to help our clients obtain all of the medical care and services they need to rebuild their lives, plus maximum compensation for their financial losses and pain and suffering.
Call Strong Law Offices today for a free consultation about a motorcycle accident case in Illinois.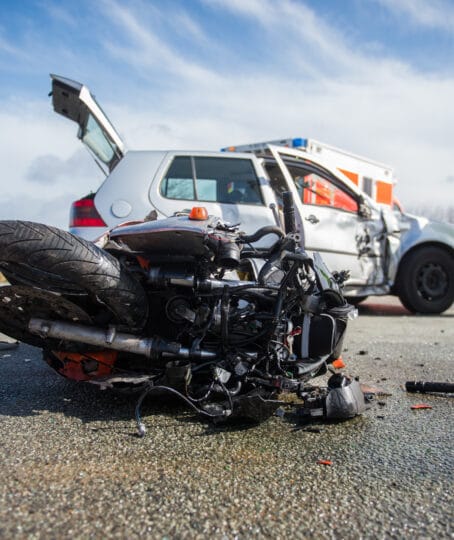 Our Motorcycle Accident Lawyers Will Take Action Immediately
After an accident, critical evidence can disappear quickly. It's extremely important to begin an accident investigation as quickly as possible to preserve that evidence.
Our firm will act quickly to begin the legal effort. We will send a professional accident investigator to the scene, who will determine how the accident happened. Our lawyers will identify all possible sources of insurance compensation and establish the liability of those responsible for the accident. Strong Law Offices will work tenaciously to build a successful case, seeking maximum compensation for you.
Strong Law Offices has a great deal of experience in all types of motor vehicle accidents. This includes cases involving spinal cord injuries, traumatic brain injuries, concussions and other injuries typically resulting from motorcycle accidents. We place a priority on helping our clients get all of the medical care and rehabilitation services they need to recover to the fullest extent possible. Strong Law Offices will fight for you every step of the way.
Check these resources on our blog:
Free Consultation with a Motorcycle Accident Lawyer
Contact Strong Law Offices by calling 309-688-5297. If you can't come to our offices in Peoria, Chicago, Bloomington, or Springfield, we will come to you.
Other Motor Vehicle Accident Cases Strong Law Offices Handles
Our car accident lawyers at Strong Law Offices handle a variety of motor vehicle accident cases, including but not limited to:
Our experienced personal injury lawyers, medical malpractice attorneys, and workers' comp lawyers can help you make the most of your injury claim.
If you were injured in a motorcycle accident, call the Peoria motorcycle accident lawyers at Strong Law Offices. Consultations are free.