Burn Injury Lawyer

In Illinois

No person ever expects to become injured in the workplace. When unfortunate accidents do happen, it is important to have a burn injury lawyer on your side who will protect your interests.

At Strong Law Offices, we can help you through the legal process. We will fight to make sure you get all available benefits. ​Our attorneys represent people throughout Central Illinois in workers' compensation claims and personal injury claims.

Our firm is focused on client service, making sure that we maintain high levels of professionalism and integrity at all times.

Did negligence cause your burn injuries? Call an Illinois burn injury lawyer at Strong Law Offices.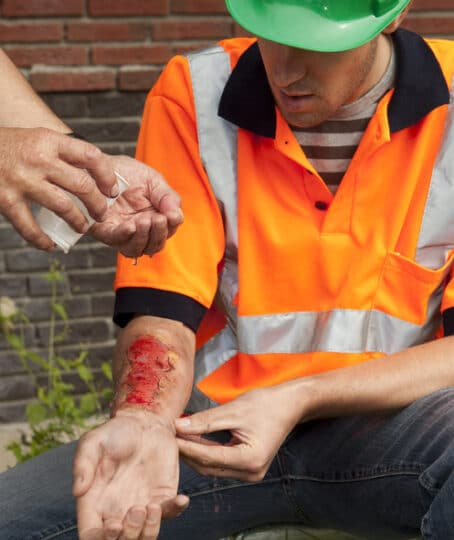 Advocating for Burn Injury Victims
​If you suffered serious burns in an accident, a burn injury lawyer at Strong Law Offices is here to help. Burns are some of the most painful types of injuries. They require a significant amount of medical attention and can take months to heal. Burns can also cause emotional trauma for the person suffering the injury because they can result in scarring or disfigurement.
​Our burn injury law firm represents welders, farmworkers, police officers, truckers, carpenters, painters, out-of-state workers, and more in straightforward and complex serious injury claims. Our clients benefit from our in-depth knowledge of the law and our ability to communicate effectively with doctors and medical professionals regarding the nature of our clients' injuries. We have a comprehensive understanding of both the legal and medical perspectives of Illinois workers' compensation claims.
Contact a Peoria Burn Injury Lawyer at Strong Law Offices
Have questions? Schedule a free consultation with our lawyers. We are happy to schedule appointments at your convenience. We can meet at any of our four office locations in Peoria, Chicago, Bloomington, and Springfield. Evening, weekend, and hospital appointments are available by request. Call 309-688-5297 or contact our burn injury attorneys in Illinois online via email.
You will be interested in these personal injury resources:
Other Personal Injury Cases Strong Law Offices Handles
Our personal injury lawyers at Strong Law Offices handle a variety of personal injury cases, including, but not limited to:
Our workers' compensation lawyers, medical malpractice lawyers, and car accident lawyers are here to help you recover.
Did someone else's negligence cause your burn injuries? Call a burn injury lawyer at Strong Law Offices.