Chicago
Eye Injury Lawyer
The unfortunate victims of workplace accidents are not the employer, but the employees. If you have been involved in an accident that has resulted in a serious injury, it is important to have an experienced eye injury attorney on your side.
There can be both partial and total loss of vision or loss of quality of vision in a workplace eye injury. Injuries to the cornea or retina oftentimes result in the need for lifetime medical care for glasses or corrective vision. Blurred vision or other eye injuries can result in balance disturbances that can lead to loss of occupation, wage differential, or need for vocational rehabilitation.
Strong Law Offices will stand by you and make sure you get the guidance and support that you need. Our firm is committed to helping people who have been injured in workplace accidents. We are known for the quality legal services we provide for our clients and receive many clients through referrals. We make certain that our priorities are aligned with those of our clients at all times.
Did your work-related accident cause vision loss? Call the Chicago eye injury lawyers at Strong Law Offices.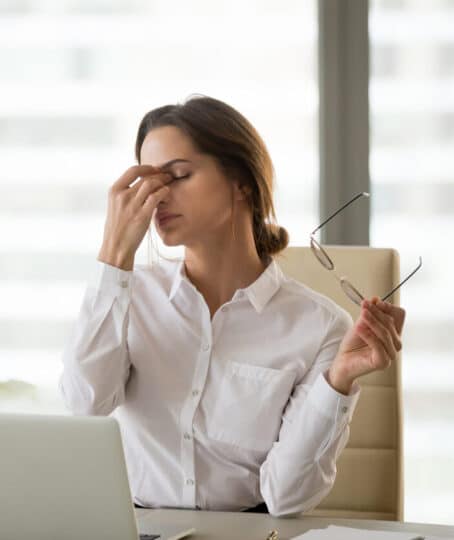 Blindness Resulting From Workplace Accidents
The eye injury lawyers at our law firm have represented injured workers in situations involving:
Loss of vision from chemical exposure
Loss of vision from farm accidents
Loss of vision from work equipment
Loss of vision from falls
Our Illinois attorneys for loss of vision believe that every person deserves the highest quality of legal services. Loss of sight from a workplace injury, either partial or total, can lead to occupational job changes or the need for lifetime medical care. We will make certain that you get access to medical care and the ability to see a physician of your choice. In addition, we will ensure that you have access to the most advanced medical treatment.
Standing Up Against Insurers
It is the unfortunate reality that employers and insurance companies can be very difficult to deal with when you try to seek workers' compensation benefits. There are endless tactics that the insurance companies will use in denying and delaying claims, or offering a person much less than what he or she is entitled to receive; at Strong Law Offices, we will fight back to make certain that you get the maximum benefits to which you are entitled. We are on your side, while the insurance carrier always tries to minimize the payout of a work injury claim to increase its profit.
Contact An Eye Injury Lawyer at Strong Law Offices
​Please contact our skilled team to schedule a free initial consultation. Our eye injury lawyers are happy to make the evening, weekend, and off-site appointments to meet your convenience. Contact us at 309-688-5297.
We have convenient office locations in Peoria, Chicago, Bloomington, and Springfield and represent clients throughout Illinois.
You will be interested in these resources:
Did an accident at your job cause an eye injury? Call the eye injury attorneys at Strong Law Offices.