Hospital Malpractice Lawyer

in Peoria, Illinois

Hospital and emergency room physicians and nurses have a hard job, and for the most part, they perform remarkably well.

This does not release them or their institutions, however, from surgical and anesthetic errors or from the duty of treating patients in a reasonable time frame — following through on patient complaints and recognizing signs of serious conditions.

If surgical or emergency room errors caused you to be injured, call the Illinois medical malpractice lawyers at Strong Law Offices.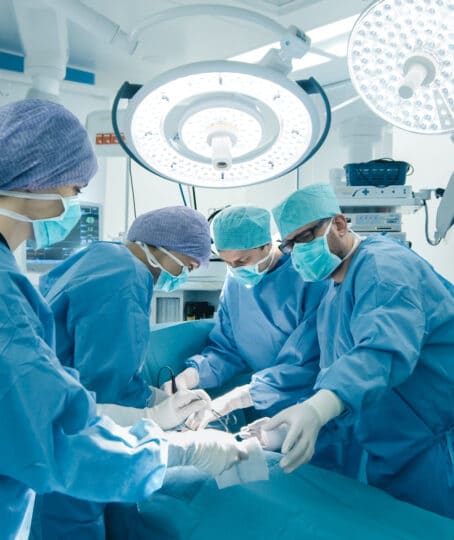 Peoria Hospital Malpractice Lawyers
​At Strong Law Offices, we have represented scores of patients who were injured in surgery, in hospital rooms, and in emergency wards.
The following are partial lists of common kinds of hospital and emergency room negligence and errors.
Most Common Hospital Malpractice Examples
Medication errors
Surgical errors
Non Sterile procedures resulting in infections
Malnutrition or dehydration of patients
Slip-and-fall accidents
Discharging patients prematurely or refusing to admit patients
Inadequate security
Negligence
Extending hospital privileges to unqualified surgeons and physicians
Most Common Emergency Room Errors
Incorrect diagnosis
Failure to triage and treat patients in a timely manner
Failure to call in specialists
Failure to run appropriate tests
Failure to keep patients for admission or observation
Emergency surgery errors
Giving medications without checking for allergies or contraindications
Failure to properly monitor patients
Discharging patients without a diagnosis or referral
Do not miss these resources:
Contact Our Emergency Room and Hospital Malpractice Attorneys
​For aggressive representation, and a law firm that really listens to your story, contact a hospital malpractice lawyer at Strong Law Offices for a free initial consultation at 309-688-5297. ​Our lawyers pledge to provide a superior level of service to you and to return all your phone calls and emails promptly.
We have convenient office locations in Peoria, Chicago, Bloomington, and Springfield and represent clients throughout Illinois. We are available to meet at your home or hospital bed at your request.
Other Medical Malpractice Cases Strong Law Offices Handles
Our medical malpractice attorneys at Strong Law Offices handle a variety of workers' comp cases, including but not limited to:
In addition, our experienced personal injury lawyers, workers' compensation lawyers, and car accident lawyers are here to help you recover.
If you are a victim of hospital malpractice, call Strong Law Offices and get strong.