Stryker Hip Lawyer

in Peoria, IL

​The attorneys at Strong Law Offices are reviewing potential lawsuits on behalf of patients with hip implants manufactured by Stryker Orthopaedics and/or Howmedica.

In July 2012, Stryker, a medical device company, voluntarily recalled two metal hip replacement components — its Rejuvenate and ABG II hip implants — over concerns that the devices could cause pain, swelling, and harm to the surrounding body tissue.

Specifically, the metal-on-metal implants could cause serious conditions such as metallosis (toxic metal levels in the blood).

If you had a Rejuvenate or ABG II hip replacement, call the Illinois Stryker hip lawyers at Strong Law Offices.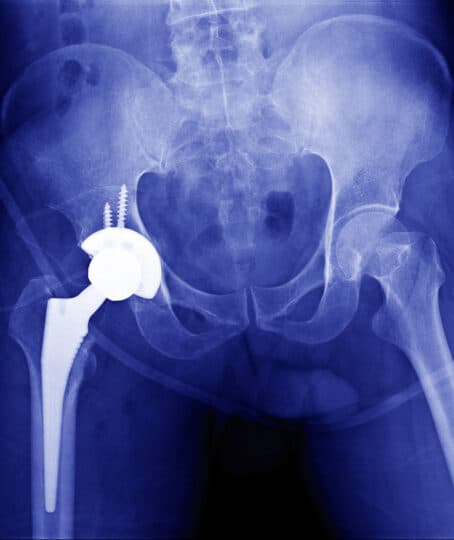 Defective Hip Allegations Against Stryker
​Our Stryker hip lawyers are reviewing allegations that:
Stryker knew about the dangers: Stryker allegedly discovered that there were numerous problems associated with the two implants even years before it took initiative to announce the Stryker hip recall of the highly dangerous hip stems.
The hip implants were not adequately tested: Stryker performed very few laboratory tests before marketing its devices to the public. While the traditional hip implants had two parts, such as a femoral stem with a ball and a cup, the Rejuvenate and ABG II implants had four parts, such as a femoral stem, acetabular cup, metal neck and a ball.
Metal-on-metal hip implants cause metallosis: The metal-on-metal wear and tear could result in fretting and corrosion. As the friction increases between the joints, the metal-on-metal hip implants release great levels of chromium and cobalt ions into the bloodstream, which can lead to metal poisoning called metallosis.
Stryker failed to advise doctors of the risks: Stryker and other manufacturers of metal-on-metal hip implants failed to advise medical practitioners and doctors who were implanting these devices of the dangers and side effects. Thus, many medical doctors and certain orthopaedic surgeons utilizing these Stryker products failed to advise and warn their patients of the potential risks and complications associated with metal-on-metal hip implants.
Bringing a Hip Defect Case Against Stryker
​On June 12, 2013, the United States Judicial Panel on Multidistrict Litigation entered a transfer order consolidating several claims filed in federal court into MDL No. 2441 and venued the multidistrict litigation in Minneapolis, Minnesota.
The Stryker hip attorneys at Strong Law Offices are currently representing several Central Illinois patients who are the victims of alleged medical device defects. This includes representing Central Illinois patients in the multidistrict litigation currently pending in the state of Minnesota.
You will be interested in these personal injury resources:
Contact Our Stryker Hip Attorneys
If you have received a Rejuvenate or ABG II hip replacement in the last five years, please contact Strong Law Offices at 309-688-5297 to discuss your case in a free consultation with one of our experienced lawyers.
Contact the product liability lawyers at Strong Law Offices to schedule a free initial consultation. We have office locations in Peoria, Chicago, Bloomington, and Springfield and represent clients throughout Illinois.
Other Personal Injury Cases Strong Law Offices Handles
Our personal injury lawyers at Strong Law Offices handle a variety of personal injury cases in the practice areas including, but not limited to:
Our skilled Illinois workers' compensation lawyers, medical malpractice lawyers, and car accident lawyers are here to help you recover.
​
If you had a Rejuvenate or ABG II hip replacement, reach out to the Stryker hip lawyers at Strong Law Offices.