Bloomington Personal Injury Lawyer
If you suffered injuries that were caused by the negligence of another party, you may be entitled to significant monetary benefits. Unfortunately, recovering fair compensation for your medical bills and lost wages is not as simple as it should be. As you struggle to pay your medical bills and make ends meet, the insurance company will use shady tactics to minimize or eliminate the payout you receive. To win your case, you need to hire a Bloomington personal injury lawyer who knows how to handle insurance companies and their unscrupulous ways. It's time to hire the attorneys at Strong law Offices.
If you suffered injuries due to another party's negligence, contact the Bloomington personal injury lawyers at Strong Law Offices to schedule your free, no-obligation consultation. Call (309) 828-3800.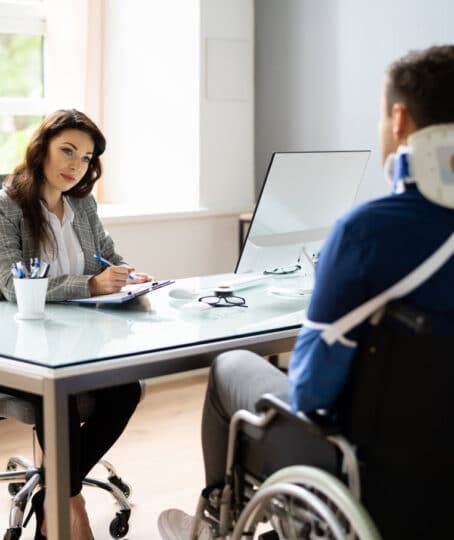 What Is a Personal Injury Lawsuit?
Personal injury lawsuits are filed in civil court to hold the at-fault party accountable for negligence, prevent future accidents, and make victims whole again. Through this type of lawsuit, a liable party may be held accountable for a victim's medical expenses, lost wages, and other damages caused by the injury accident. Approximately 90% of personal injury claims are settled out of court. When an insurance company fails to offer a reasonable settlement amount to victims, filing a personal injury lawsuit may be necessary.
Types of Cases Our Bloomington Personal Injury Lawyers Handle
The Bloomington personal injury lawyers at Strong Law Offices handle a variety of case types. We are:
What Are the Steps in a Personal Injury Case?
Taking the correct steps in a personal injury case improves a plaintiff's chances of achieving a successful outcome. From the moments immediately following the accident, to when you receive your settlement check, your actions can make or break your claim. The attorneys at Strong Law Offices are familiar with all types of injury cases in Bloomington. We will help you navigate your claim to ensure your rights are protected, and you receive fair compensation for your losses.
The steps in a personal injury claim are broken down into three sections:
What to do immediately after the accident
Steps that contribute to preparing and presenting a claim
Those that occur during trial
Immediately After the Accident
Immediately after an injury accident occurs, assess your injuries. Call 9-1-1 and report the accident to get help on the way. If urgent medical treatment is not necessary, document the scene. Gathering witness statements, taking photos, and collecting other evidence right away helps preserve the integrity of your claim. After you have documented the scene, reported the accident, and sought medical care, retain a Bloomington personal injury attorney to file a claim.
Filing Your Personal Injury Claim
Your personal injury lawyer will help you file a claim with the insurance company. He or she will send the insurance company a demand for compensation, and include evidence that demonstrates the severity of your injuries and liability for the accident. If you haven't already, you should direct the insurer to contact your attorney with any settlement negotiations or further communication about the case.
Heading to Trial
If your lawyer cannot reach a settlement agreement with the insurance company, your attorney will file a lawsuit in civil court. If settlement negotiations remain unsuccessful, your case will go to trial. During the trial, your attorney will prove to the court that your request for damages is fair, and that the defendant is responsible for your injuries. During the trial process, your attorney will:
How Long Do You Have to File a Personal Injury Lawsuit?
Claimants seeking to file a personal injury lawsuit generally have a two-year deadline to meet. The clock on these claims begins ticking on the date the injury occurred. In cases where the injury is not immediately apparent, the discovery rule may apply and the time to file a lawsuit will not toll until the date the victim knew about, or reasonably should have known about, the injury. For wrongful death claims, the two-year time limit begins with the decedent's death. There are, however, some exceptions to the Illinois personal injury statute of limitations. For example, if a child sustains a disability from the accident, the statute of limitations doesn't begin to run until the child turns 18.
How Are Bloomington Personal Injury Lawyer Fees Paid?
The personal injury lawyers at Strong Law Offices work on a contingency fee basis. This is a common fee structure followed by many personal injury attorneys in Bloomington. Under a contingency agreement, consultations are free, and the lawyer fees are only collected when a plaintiff wins his or her case. Typically, these fees are charged as a percentage of a settlement award. In addition to attorney's fees, other charges, such as costs for expert testimony or filing fees, may come out of a plaintiff's settlement.
Compensable Damages in Personal Injury Claims
Compensatory damages in personal injury claims are intended to make the victim whole again. To facilitate this, victims are compensated for economic and non-economic losses. In rare cases, a victim may also receive punitive damages. Punitive damages are meant to punish a defendant for egregious actions that contributed to a victim's injuries. Victims are typically awarded economic and non-economic damages for:
Medical treatment costs
Lost wages and future lost income
Loss of consortium
Pain and suffering
Emotional distress
Do You Need a Bloomington Personal Injury Lawyer?
Personal injury accident victims should retain legal help to improve their odds of achieving a successful outcome. Claimants need a personal injury lawyer when:
They suffer serious injuries at the hands of a negligent person or entity
They want to maximize their settlement award
The insurance company is resisting paying fair damages
How Do You Prove Fault in a Personal Injury Case?
For a victim to win a personal injury lawsuit against a defendant, he or she must prove four elements. These elements help to show that a defendant was guilty of committing a tort against the claimant.
In a personal injury case, victims must prove:
The defendant owed a duty of care to the plaintiff. In most cases, people are expected to act in a manner that is consistent with how a reasonable person in the same situation would act. This is established as a duty of care.
The defendant breached the duty of care. When a defendant fails to act reasonably, such as operating a vehicle while intoxicated, he or she has breached the duty of care owed to other road users.
The defendant's actions caused injuries. The defendant's actions must have been the cause of the victim's injuries
The plaintiff suffered damages. The plaintiff must also have suffered losses, or damages, directly tied to the defendant's breach of duty of care.
A Bloomington personal injury lawyer with Strong Law Offices can help injured victims prove these elements and recover maximum compensation.
Who Can I Sue in My Personal Injury Claim?
Liability in a personal injury claim depends on the circumstances of the accident. In some cases, liability may be shared among multiple parties, including the victim. Illinois operates under a comparative fault system. Accident victims can still seek damages if they are partially at fault for their injuries, so long as their percentage of fault is 50% or less. However, the amount of damages recovered is reduced by the victim's percentage of liability.
In Bloomington motor vehicle accidents, victims can hold negligent drivers liable for damages. In premises liability claims, such as those for slip and fall accidents or dog bite injuries, the property owner can be held accountable for dangerous conditions. In any personal injury claim, the liable party is the person or entity responsible for the conditions that lead to the victim's injuries. A victim's attorney may use the following methods to determine who is at fault for an accident:
Establishing negligence
Showing intentional conduct
Proving negligence per se
Using a strict liability standard of proof
In some cases, a government entity's negligence is responsible for the victim's injuries. However, government entities are protected against personal injury lawsuits except under the following conditions:
The responsible party was a local municipality.
The claim is against the state, and the same claim would be valid against an individual.
The injury occurred on government property, and the government entity was made aware of the problem and potential for injuries.
Frequently Asked Questions About Personal Injury Lawsuits
How are attorney fees paid in a personal injury claim?
Most personal injury lawyers work on a contingency fee basis. Your attorney will not collect fees unless you win your case. These fees are usually discussed upfront and are calculated as a percentage of a victim's damages award. Additional fees, such as filing fees or costs to retain an expert testimonial, may also be recovered from the plaintiff's settlement award.
Is there a cap on personal injury damages in Illinois?
There is no current cap on damages in personal injury claims in Illinois. Previously determined caps on personal injury damages were ruled unconstitutional in Illinois in 2010. All decisions regarding damages awards are now left to judges and juries.
How much is my personal injury claim worth?
The value of your personal injury claim depends on the severity of your injuries, the amount of income you lost, and the extent of your pain and suffering. Victims can recover compensation for damages such as medical bills, lost wages, and future expenses associated with the injury. A personal injury attorney can evaluate your case and help you determine its value.
Additional Resources on Personal Injury Lawsuits:
Did another person's negligence cause your injuries? Call a Bloomington personal injury lawyer at Strong Law Offices today at (309) 828-3800.