Bloomington Motor Vehicle Accident Attorney
Were you injured in a motor vehicle accident in Bloomington, Illinois? Have the financial burdens that were caused by another party's negligence been left on your shoulders? If you required significant medical treatment, or you were/are unable to return to work because of the crash, you may be entitled to compensation. The Bloomington motor vehicle accident attorneys at Strong Law Offices have been helping crash victims like you recover compensation for medical bills, lost wages, and more for over 25 years. We know what it takes to win your claim.
Call our Bloomington motor vehicle accident attorneys to schedule your free, no-obligation consultation.(309) 828-3800.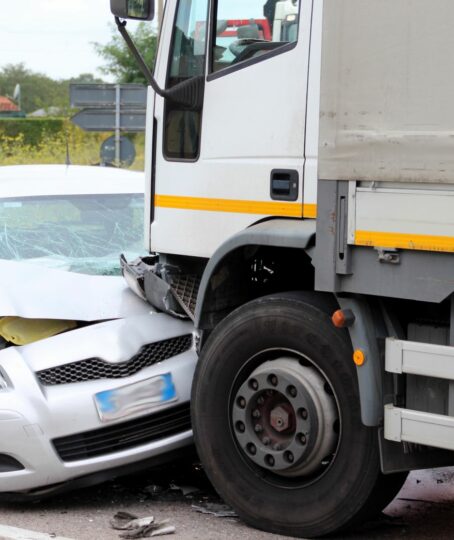 What Is a Motor Vehicle Accident?
Motor vehicle accidents are crashes involving cars, trucks, 18-wheelers, boats, buses, and other types of motorized vehicles, that cause injuries, property damage, or both. Although motor vehicle crashes are frequently referred to as "motor vehicle accidents," the terminology used is not usually accurate. An "accident" is an event that happens by chance, usually without an obvious cause. Motor vehicle collisions, on the other hand, are almost always caused by someone's carelessness or recklessness.
Types of Crashes Our Bloomington Motor Vehicle Accident Attorneys See
The type of impact that occurs plays a significant role in the severity of the injuries caused by motor vehicle accidents. It can also help accident reconstruction specialists and investigators determine the cause of a crash and identify who may have been at fault. The most common types of crashes our Bloomington motor vehicle accident attorneys see include:
Rear-End Collisions
T-Bone Collisions
Head-On Collisions
Rollover Accidents
Blind-Spot Accidents
Why Motor Vehicle Accidents Happen
Motor vehicle accidents can happen in numerous types of situations, but they are more likely to occur under certain conditions. While things like adverse weather conditions and congested roadways cannot be controlled, other factors that raise the risk of injury and fatality accidents can be prevented.
Factors that increase the risk of motor vehicle accidents in Bloomington include:
Negligent driving behaviors
Defective motor vehicle parts
Inadequate motor vehicle maintenance
Malfunctioning traffic signals
Dangerous road designs
Distracted Driving
Despite laws that prohibit texting and driving, and programs that are designed to raise awareness about other distracting behaviors, distracted driving remains a leading cause of motor vehicle accidents in Bloomington. Drivers in our community continuously put themselves and others at risk when they post on social media, record TikTok videos, make phone calls, eat or drink, or even interact with distracting passengers.
Drugged or Drunk Driving
Impaired driving is another leading cause of motor vehicle accidents, and this dangerous behavior involves more than drivers in cars and trucks. People who operate boats, motorcycles, mopeds, buses, trains, and airplanes while they are under the influence of alcohol, drugs, or prescription medications react more slowly, have impaired judgement, and may even lose consciousness.
Speeding
As people rush to get to where they need to be, they often disregard speed limits that are designed to help keep road users safe. When drivers travel at increased rates of speed, they have less time to react, it takes longer for them to stop, and the impact in a collision is greater. In Illinois, speeding is a factor in more than 36% of motor vehicle crashes that cause fatalities.
Unfortunately, these dangerous driving behaviors are common in and around:
Boating Accidents
In 2021, the U.S. Coast Guard reported that 88 recreational boating accidents happened in Illinois. Although alcohol consumption and drug use played a role in many of these incidents, impairment is not the only reason boating injuries and fatalities occur. Inexperienced operators, excessive speed, improper lookouts, reckless behaviors, and mechanical failures are frequently factors as well.
Buses, Trains, and Other Common Carriers
Common carriers, such as taxis, planes, buses, and trains, are held to a higher standard of care to make sure their passengers are safe. While this higher duty of care applies to the carrier's passengers, these businesses owe an ordinary standard of care to other road users. When transportation companies and/or the operators they employ fail to use the highest degree of care for passengers, and someone gets hurt, the carrier can be held liable for victims' injuries.
Since common carriers are regulated by some type of federal authority, like the FMCSA for instance, your motor vehicle accident attorney in Bloomington will investigate your accident case differently than he or she might investigate a crash involving an individual driver in a car accident. Your lawyer will consider whether the carrier violated federal or state regulations, and whether it breached the duty to provide the highest degree of care to prevent passenger injuries.
Common Injuries Sustained in Motor Vehicle Accidents
Motor vehicle accident victims suffer a wide range of injuries in Illinois. While the luckiest of victims walk away from crashes with only minor injuries or no injuries at all, many are left with permanent disabilities, scarring, and disfigurement. In the worst crashes, injuries are so severe that victims die. The National Safety Council (NSC) reports that Illinois saw an 18% increase in motor vehicle accident deaths in 2021, when 1,324 people died.
Common injuries seen by motor vehicle accident attorneys in Bloomington include:
Broken Bones
Major organ damage
Amputations
Neck and Shoulder Injuries
Assessing Liability After a Motor Vehicle Accident
At Strong Law Offices, our motor vehicle accident attorneys in Bloomington work with top investigators, accident reconstruction experts, and other specialists to assess liability after a crash. Since various factors can impact liability for injuries in motor vehicle accidents, a legal analysis by an experienced injury attorney is necessary when deciding who to sue. Our attorney will consider:
The main cause of the accident
Additional factors that may have contributed to your crash
The insurance policies in effect at the time of the accident
Whether you or the other driver was performing work-related duties when the accident happened
Identifying Responsible Parties in Motor Vehicle Accidents
An at-fault driver is not the only party who can be held liable in a motor vehicle crash. Responsible parties can include:
Multiple drivers or motor vehicle operators
Mechanics
Motor vehicle parts manufacturers
Road designers
Road construction companies
Parties responsible for maintaining traffic signals
Common carriers
In many cases, multiple parties are partially responsible for motor vehicle accidents.
Determining the Value of Your Motor Vehicle Accident Claim in Bloomington
No motor vehicle accident attorney in Bloomington can guarantee how much you will recover when you file a personal injury claim or lawsuit. An experienced lawyer who has handled similar cases in the past, however, can provide you with a fairly accurate estimate of how much to ask for in a motor vehicle accident settlement.
To help determine the value of your case, your accident lawyer will consider:
The severity of your injuries and other losses
The amount of insurance coverage available
Whether multiple defendants can be held liable
Additional sources of recovery
Whether you played a role in causing the accident
Additional sources of recovery may include:
Uninsured/underinsured motorist coverage
Health insurance policies
MedPay coverage
Businesses and large corporations
Frequently Asked Questions About Motor Vehicle Accidents in Bloomington
What is the statute of limitations for motor vehicle accident lawsuits in Bloomington?
If you were injured in a motor vehicle accident in Bloomington, you generally have just two years to file an injury lawsuit and recover compensation. Since exceptions may apply to your case, and the time limit to file may be shorter, you should speak with a motor vehicle accident attorney in Bloomington.
I was in a motor vehicle accident while I was working. Can I still sue the at-fault driver?
If your motor vehicle accident was caused by someone else, you may be able to sue the at-fault driver, even if you were working when the crash occurred. A successful personal injury claim or lawsuit may increase your recovery amount, but you will need to prove fault to win your case.
If I file a motor vehicle accident claim, will I have to go to court?
Since more than 90% of personal injury claims are resolved through settlement agreements, the chances are slim that you will need to go to court if you file a motor vehicle accident claim. If the insurance company fails to offer you a reasonable settlement amount, however, your case could go to trial.
You might be interested in these personal injury resources:
Call the motor vehicle accident attorneys at Strong Law Offices and let's get started with your case. (309) 828-3800.