Bloomington Workers' Compensation Lawyer
After a workplace accident, injured workers may face high medical expenses and lost wages on top of the stress of recovery. This places an avoidable, overwhelming burden on injured workers and their families. A Bloomington workers' compensation lawyer with Strong Law Offices can help you fight for maximum compensation to recover financial stability after a workplace injury.
Take the first step toward financial recovery after your workplace accident. Call a Bloomington workers' compensation lawyer to schedule your free, no-obligation consultation. (309) 828-3800.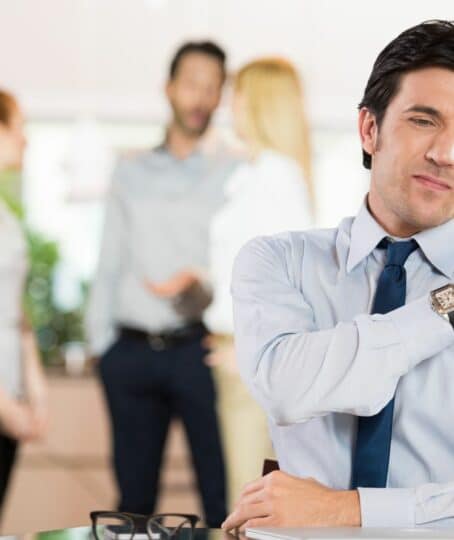 What Is Workers' Compensation?
Workers' compensation is a no-fault insurance program that reimburses injured employees for expenses incurred from a workplace accident. This mandatory program protects employees and employers alike. It ensures employees are able to recover injury costs without proving fault for workplace accidents. In return, workers give up their right to file personal injury lawsuits against employers. Workers' compensation benefits cover medical expenses, lost wages, and vocational rehabilitation after workplace accidents.
Common Causes of Workplace Injuries
Workplace injuries can occur in a variety of circumstances. However, the following circumstances contribute to more than 84% of workplace injuries:
Slip and fall accidents
Collisions with objects or crush injuries
Overexertion
Repetitive motion
What Benefits Are Available in Workers' Compensation Claims?
Workers' compensation claims reimburse injured employees for financial losses after a workplace injury. The amount of compensation available to an injured worker depends on the severity of his or her injuries. Benefits available under the workers' compensation system include medical expenses, costs for lost income, predicted future expenses, and disability benefits.
Medical Expenses
Any medical expenses associated with a victim's work-related injuries are compensable under workers' compensation coverage. This includes costs for initial treatment, follow-up treatment costs, and expenses for prescription medications or medical equipment.
Lost Income
When a worker is required to miss work to recover from a workplace injury, the employee is eligible for reimbursement through workers' compensation insurance. When a worker is forced to take a lower paid position due to limitations from his or her injury, the victim is able to recover these costs as well.
Future Expenses
Some anticipated future expenses associated with a workplace injury are covered under workers' comp insurance. These include:
Temporary Disability Benefits
Victims can receive disability benefits for workplace injuries. Temporary disability benefits are available to injured workers who are expected to recover from their injuries, but are unable to work temporarily. Employees must miss at least 14 days (or be projected to miss at least 14 days) to qualify.
There are two types of temporary disability benefits: temporary total disability benefits (TTD) and temporary partial disability benefits (TPD). TTD benefits cover employees who are completely unable to work while recovering. TPD benefits cover employees who are operating at reduced or part-time working capacity during recovery.
Permanent Disability Benefits
When an injured worker is permanently unable to work at previous capacity because of a workplace accident, he or she can recover permanent disability benefits. These benefits are divided up similarly to temporary benefits, with permanent partial disability benefits (PPD) and permanent total disability benefits (PTD) available.
Claiming Workers' Compensation for Cumulative Injuries
Workers' compensation coverage extends to injuries that occur over time. These injuries, known as cumulative injuries, get progressively worse and can leave victims in need of medical treatment and unable to work. Fortunately, victims of cumulative work injuries can recover compensation. The following are just some examples of cumulative injuries often covered by workers' compensation benefits:
Cubital tunnel syndrome
Back injuries
Repetitive stress injuries
Nerve damage
Hearing loss
When Should I Hire a Bloomington Workers' Compensation Lawyer?
Working with a workers' compensation attorney helps claimants improve their odds of a favorable outcome. Some claims can be handled without the assistance of an attorney. However, it is in an employee's best interest to retain legal help when a claim is denied or when his or her injuries are catastrophic. An attorney can ensure a claim is filed on time, paperwork is properly completed, and a client receives the maximum benefit amount. In some cases, it is necessary for an injured worker to hire a workers' compensation attorney. These scenarios include when:
An injury results in a temporary or permanent disability.
Injuries are catastrophic.
An employer fails to carry workers' comp insurance.
An employee's claim is wrongfully denied.
Filing Within the Workers' Compensation Deadlines
Injured workers must adhere to the workers' compensation time limits established by Illinois law. Reporting injuries and filing a claim as soon as possible helps to secure an employee's access to benefits. When a claim cannot be filed immediately, victims should report and file within the following deadlines:
To report the injury: Workplace accident victims are required to notify employers of the accident or injuries within 45 days.
To file a workers' compensation claim: Injured workers have 3 years from the date of the injury, or 2 years from the payment of the last medical bill, to file for workers' compensation benefits.
To appeal a claim denial: Appeals against workers' compensation claim denials must be filed within 30 days. To appeal an arbitrator's decision after an appeal denial, claimants must request a review within 30 days of the decision.
The workers' compensation claim statute of limitations applies to the date the injury or illness occurred, or the date the employee knew, or reasonably should have known, about the injury. This helps to protect injured victims' rights to compensation for cumulative injuries.
What to Do If Your Workers' Comp Claim Is Denied
If your workers' compensation claim is denied, you have the right to file an appeal. Insurance companies frequently deny valid workers' compensation claims to avoid lofty payouts to injured workers. Many companies don't expect victims who are facing denials to follow through with an appeal. This leaves injured workers facing financial hardship due to high medical costs and lost income. If your claim was wrongfully denied, a Bloomington work injury lawyer with Strong Law Offices can help you appeal your denial. To determine whether your claim was wrongfully denied, your workers' compensation lawyer will weigh the reason for the denial against the facts of your claim.
Reasons a workers' compensation claim may be denied include:
The employee failed to report the injury within the allotted timeframe or file within the statute of limitations.
The employee was under the influence of drugs or alcohol, and impairment caused the accident.
The application for workers' compensation benefits was incomplete or contained misinformation.
There was insufficient evidence to support the injured workers' claim.
The applicant did not qualify as an employee at the time of the accident.
The injured worker did not seek medical treatment for his or her injuries.
When a workers' compensation claim is denied, but they meet the workers' compensation eligibility requirements, claimants can take the following steps with their attorneys to appeal the decision.
File for an adjustment of claim. Injured workers facing an unfair workers' comp claim denial must file for an adjustment of claim with the Illinois Workers' Compensation Commission (IWCC).
Request a workers' compensation hearing. Once the IWCC receives the applicant's request, an arbitrator will be appointed to oversee the claim. Claimants can then discuss their case with their arbitrator during a workers' compensation hearing.
If necessary, file an appeal against the arbitrator's decision. If the arbitrator denies an injured worker's claim, he or she can appeal the decision with the IWCC through an additional application and hearing.
Frequently Asked Questions About Bloomington Workers' Compensation Claims
Will workers' compensation cover me for work-related illness or injuries that aren't the result of an accident?
Any work related illness or injury is covered under workers' compensation benefits for employees. This includes occupational illnesses, as well as injuries that don't occur from a traumatic event. Cumulative injuries, such as those that occur over time, qualify for workers' comp.
Can I still receive workers' compensation benefits if the accident was my fault?
Workers' compensation insurance benefits fall under a no-fault system. In Illinois, workers qualify for benefits regardless of whether they were at fault for the accident. These benefits apply regardless of the employer's fault as well.
Can I see my own doctor for workers' comp?
In Illinois, injured workers have a right to choose their own doctor for the treatment of workplace injuries. However, employers may have a pre-selected pool of physicians, known as a "preferred provider program." Employees can select two doctors within the PPP or one doctor outside the PPP when seeking treatment for their injuries. Additionally, workers' comp benefits extend to any healthcare referrals made by an employee's workers' compensation doctor.
Learn More About Workers' Compensation Claims:
Did you suffer damages after a workplace accident? Contact a Bloomington workers' compensation lawyer at Strong Law Offices today. Call (309) 828-3800.