Champaign Medical Malpractice Lawyer
When patients suffer injury or a worsened health condition at the hands of medical professionals, it often takes a physical, emotional, and financial toll on the victims and their families. In addition to dealing with the effects of medical malpractice on the patient's physical well-being, such an injury will likely require ongoing medical care and lasting financial costs. The experienced medical malpractice lawyers at Strong Law Offices can help alleviate the financial burden you're facing. Our Illinois law firm has been representing injured victims throughout the state for more than 25 years, and we have recovered millions on behalf of our clients. 
If a doctor's negligence caused you harm, call our Champaign medical malpractice lawyers to schedule your free consultation. 312-625-2720.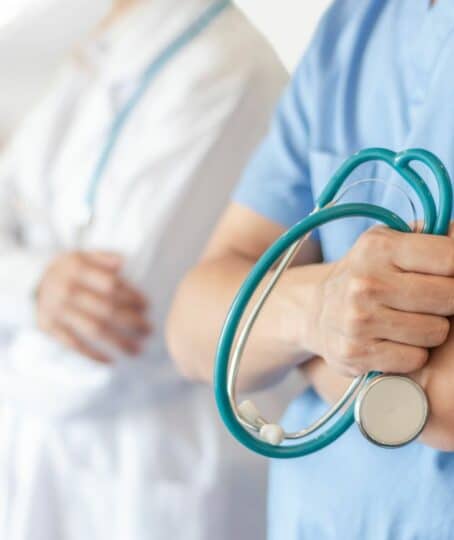 What Is Medical Malpractice?
Medical malpractice refers to situations in which patients suffer harm due to healthcare providers failing to provide medical care that meets the standards expected. Not all hospital injuries and poor outcomes rise to the level of medical malpractice, however.
For a viable medical malpractice claim to exist, the healthcare provider must have established a doctor patient relationship with the victim, the medical professional or facility must have provided improper treatment to the patient, and the medical negligence must have caused a serious personal injury or wrongful death to the victim.
Types of Medical Malpractice Cases
Various types of medical errors occurring in facilities ranging from doctor's offices to hospitals may form the basis of a medical malpractice lawsuit. Some of the most common types of medical malpractice cases our Champaign medical malpractice attorneys see involve:
Failure to diagnose
Misdiagnosis
Medication errors
Surgical errors
Common Causes of Medical Negligence
Most medical malpractice cases that Champaign medical malpractice attorneys see stem from medical errors in hospitals, but negligent actions by doctors, nurses, and other healthcare providers can happen in nearly all settings. Medical malpractice injuries arise from mistakes that occur in dentist and doctor offices, pharmacies, nursing homes, surgical centers, urgent care clinics, and hospitals. Medical mistakes rank as the third leading cause of death in the U.S., behind only heart disease and cancer.
Many factors contribute to the occurrence of medical mistakes and negligence. These include, but are not limited to:
Staffing and workload issues
Substandard policies
Lack of patient interaction
Human issues
Communication and information flow deficits
Staffing and Workflow Issues
Medical offices and facilities often have policies and standards in place to help ensure patient safety, efficiency, and to avoid mistakes. Some, however, fail to establish adequate standards, which may result in things falling through the cracks or other situations that may cause lapses in the care provided to patients.
Substandard Policies
Facilities that fail to properly train healthcare workers contribute to patient injuries. When medical procedures, such as surgeries, are performed by under-trained or under-supervised staff, errors occur that can leave a lifelong impact on victims.
Patient-Related Problems
Sometimes the issues that result in medical malpractice claims trace back to interactions with and assessments of patients themselves. Due to varying factors, healthcare providers may not correctly identify patients, inadequately assess patients, fail to get patient consent, or give patients insufficient education regarding the proposed treatments and potential outcomes.
Human Issues
Human issues causing medical mistakes generally involve lapses in the standards of care or adherence to appropriate processes and procedures. For example, this may include instances of patients undergoing the wrong procedure because of a coding or charting error. Mislabeling of lab specimens and lacking adequate knowledge to provide a patient with the care he or she requires may also qualify as human errors that cause medical malpractice situations.
Communication and Information Flow Deficits
Verbal or written, continuity of care in outpatient and inpatient settings often relies heavily on communication between healthcare professionals. Therefore, when not communicating effectively or accurately, issues commonly arise that may impact patient care and lead to mistakes that have adverse health effects.
Information flow plays a vital role in administering the proper medical care to patients. Details should follow a patient, including his or her name, date of birth, any medication allergies, and any other conditions he or she has that might affect treatment. Failing to coordinate medication orders, provide medical or medication history that might affect prescribing decisions, or report test results may also impact the treatment plans that medical providers develop and the care that patients receive.
Adverse Health Effects Caused By Medical Malpractice
Champaign medical malpractice lawyers see patients experience wide-ranging adverse health effects due to medical mistakes and negligence. The type of harm victims suffer varies based on factors, such as the type of error that occurred, the patient's prior health condition, and the patient's age.
Common injuries caused by medical malpractice include:
Infections
Allergic Reactions
What Do Medical Malpractice Lawyers Do?
Your hospital malpractice lawyer will thoroughly review and analyze the details of your injury, the circumstances under which it occurred, and the effect it has had on your life. Doing so helps your medical malpractice lawyer give you realistic expectations regarding the likelihood of success with your case. It also provides your medical malpractice attorney with the information needed to accurately estimate the damages in your case. Some of the information an experienced medical malpractice attorney in Champaign will examine includes:
Medical information from before the incident
Medical records relating to the involved procedure or treatment
Medical records from after the incident
Work hours and earnings statements to determine lost wages
Identifying Responsible Parties
Once the negligence is identified, your medical malpractice lawyer will review your treatment records and work with medical experts to determine who may be liable for your personal injury or your loved one's wrongful death. Your medical malpractice attorney will consider all the doctors, nurses, hospital staff, and other health care providers participated in the treatment you received, and whether each medical professional played a role in causing your injuries. If you were given the wrong medication, for example, a doctor, nurse, or pharmacist may be liable for the medication errors that caused your injury. Responsible parties in your medical malpractice case might include:
Doctors
Nurses
Pharmacists
Anesthesiologists
Technicians and aides
Other medical professionals
A nursing home
A hospital
Facility administration
Facility owners
Defective products manufacturers
In a medical malpractice case, multiple parties may be liable for your injury. For example, if transvaginal mesh caused your injury, your doctor and the defective products manufacturer may both be liable for your losses. If your baby suffered birth injuries during a c-section, or foreign objects were left behind during the surgery, you may be able to sue a doctor, surgeon, and other medical professionals who established a doctor patient relationship with you and contributed to causing your injury.
A medical malpractice lawyer will help identify all those responsible for the inadequacies in care that caused your personal injury, and help make sure the negligent medical providers are held accountable.
Obtaining an Affidavit of Merit
In Illinois, medical malpractice claims must include affidavits of merit. Through this document, your Champaign medical malpractice lawyer will swear to having consulted with a qualified medical professional regarding the validity of your claim. Due to the nature of these injury cases, testimony from one or more medical experts is almost always required. The affidavit of merit aims to limit frivolous medical malpractice lawsuits by certifying that such cases have grounds. This certification and the required supporting documentation must be filed within 90 days of filing a medical malpractice lawsuit.
Your Champaign, IL medical malpractice attorney will prepare the affidavit and swear to it under oath. The affidavit must include proper and complete information for the case to proceed. Without it, the court may dismiss your case, making it important to work with a legal representative to ensure your rights are looked out for and upheld.
Some of the criteria for healthcare professionals providing expert consultations for the purpose of such an affidavit include the following:
Be currently practicing or teaching in an area of medicine pertinent to the case
Has experience and competence in the subject of the lawsuit
Has knowledge regarding the medical issues involved in the case
In addition to information about the credentials of the healthcare professional consulted, the affidavit of merit package should also include a written report from the physician. In this report, the medical provider should detail his or her opinions on whether the case has merit and reasonable cause.
Frequently Asked Questions About Medical Malpractice
How long do I have to file a medical malpractice lawsuit?
Patients injured by doctor mistakes or negligence typically have two years from the date they knew or reasonably knew their injuries resulted from lapses in their care, but no later than four years after the date on which the mistake happened. If you were under the age of 18-years-old when the medical error occurred, you may have up to eight years to initiate legal action.
Are damages capped for a medical malpractice claim award?
Generally, Illinois does not cap the economic or non-economic damages that you can receive in a medical malpractice claim. You may ask for and receive compensation to cover your associated current and anticipated expenses, such as medical bills, lost income, and pain and suffering.
Can I file a medical malpractice lawsuit if I signed a consent form?
Depending on the circumstances, you may still have a right to medical malpractice damages, even if you signed a treatment consent form. Such documents notify you of potential risks associated with a medical treatment or procedure, and by signing, you acknowledge their possibility. Your healthcare providers owe you a duty of care to prevent these risks. If they breach that duty, the consent form may not apply.
You might be interested in these medical malpractice resources:
Did doctor or facility negligence cause your injury or worsened health? Call a Champaign medical malpractice attorney at Strong Law Offices. 312-625-2720.