Springfield Medical Malpractice Attorney
You put your health and wellbeing in the hands of healthcare providers. You reasonably expect them to provide a high standard of care when treating your injuries or ailments. When healthcare professionals are negligent or reckless, they put you at risk of suffering a serious injury, worsened condition, or even death. The Springfield medical malpractice attorneys at Strong Law Offices have been helping injured patients for more than 25 years. Let us help you recover compensation for your losses and hold negligent medical professionals accountable.
Contact a Springfield medical malpractice attorney at Strong Law Offices to schedule your free, no-obligation consultation. Call (217) 544-9005.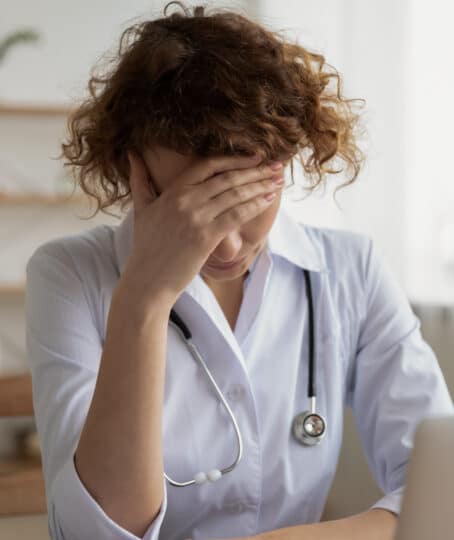 Why Do You Need a Medical Malpractice Attorney?
Health care provider negligence often leads to mistakes that cause serious injuries. Victims frequently suffer disfigurement, worsening illnesses, infections, and even death. In addition to the physical and emotional toll that medical errors take on patients and their families, these mistakes often lead to extraordinary costs. While you can file a medical malpractice claim against the negligent healthcare provider, the insurance company will likely put up a fight to avoid paying. A hospital malpractice lawyer may improve your chances of recovering compensation to pay for your medical bills and other losses.
Common Causes of Medical Malpractice
When medical professionals make mistakes, it may cost you your health or even your life. Patient safety experts estimate that medical mistakes rank as the third leading cause of death in the United States. Understanding why medical errors happen is a step towards preventing patient injuries in the future. Common causes of medical malpractice include:
Failure to adhere to the proper standards and protocols
Fatigue
Communication breakdowns
Drug and alcohol use
Staffing shortages
Common Types of Medical Malpractice in Springfield
Illinois health care professionals are expected to provide care that meets the standards set for medical providers with similar training in the same or similar circumstances. Should they fail to meet the expected standard and, as a result, cause their patients to suffer injury, further illness, or death, victims may have grounds to pursue a claim for compensation.
Common types of medical malpractice in Springfield include:
Surgery errors
Misdiagnosis
Failure to diagnose
Medication mistakes
Hospital-acquired infections
Surgery Errors
Surgery errors occur at physicians' offices, outpatient facilities, and hospitals. Such mistakes include performing the incorrect procedure, operating on the wrong body part or side, or taking the wrong patient in for surgery. Other common errors during surgeries involve leaving instruments or materials inside of patients and failing to carefully monitor them after surgery. If you fall victim to doctor mistakes during a surgical procedure, you may be able to file a medical malpractice claim against the surgeon, nursing staff, or medical facility.
Diagnostic Mistakes
Some of the most common medical mistakes affecting patients include missed diagnosis, delayed diagnosis, and failure to diagnose. Physicians may miss signs or symptoms, incorrectly interpret test results, or not order certain diagnostics. In some cases, tests are performed incorrectly or testing equipment malfunctions.
Hospital-Acquired Infections
In seeking treatment for one condition or ailment, poor sanitation standards or treatment mistakes sometimes cause patients to develop hospital-acquired infections. Occurring when bacteria or germs enter the body through the bloodstream, lungs, digestive tract, urinary tract, or skin, hospital-acquired infections commonly make patients sick and, in the worst cases, cause wrongful death.
Common examples of health care-acquired infections include:
Central-line associated bloodstream infections
Methicillin-resistant staphylococcus aureus (MRSA)
Clostridium difficile infections (C-diff)
Catheter-associated urinary tract infections
Ventilator-associated pneumonia
Sepsis
Filing a Medical Malpractice Claim for Birth Injuries
Preventable medical mistakes sometimes occur during pregnancy or the labor and delivery stages. Many such errors involve failing to appropriately and fully monitor the pregnancy or to have a timely response to complications, such as umbilical cord entanglement, excessive bleeding, or fetal distress. A birth injury caused by medical malpractice, such as when delivery errors cause cerebral palsy or doctors neglect to provide proper prenatal care, often has life-long implications for children and their families.
Nursing Home Abuse
Many older adults and people with disabilities rely on the services of Illinois nursing homes. Unfortunately, however, some of our community's most vulnerable may suffer mistreatment at the very hands of those charged with their care. The World Health Organization reports that over the last year, approximately one in every 60 people ages 60-years and older experienced some type of abuse or neglect.
Unintentional and intentional nursing home abuse or neglect happens for a wide range of reasons. These instances are sometimes classified as medical malpractice or medical negligence if injuries are caused by healthcare professionals, and they happen when the nursing home resident is receiving medical care. In many cases, however, nursing home abuse cases are classified as personal injury. When lack of training, negligent hiring, and under-staffing contribute to nursing home negligence, facilities can be held liable for injuries and deaths through medical malpractice claims.
Elements of a Medical Malpractice Claim in Springfield
Various elements must exist for you to have a viable medical malpractice claim in Springfield. When evaluating your case, your medical malpractice attorney will consider whether these elements are present, and whether evidence is available to back up your claim. Your lawyer will look at whether:
There was a medical provider-patient relationship that required a duty of care
The healthcare provider breached the duty of care owed to you
The breach of duty caused you to suffer injuries
You suffered physical, emotional, and/or financial damages because of the mistake or omission
What Damages Can You Seek in a Medical Malpractice Lawsuit?
If you suffered injuries, such as amputation, because of medical malpractice, you may consider filing a lawsuit against your healthcare provider, the facility at which you received treatment, or several liable parties. You may seek compensation for your economic and non-economic losses. Also known as special damages, your economic losses may include the out-of-pocket expenses you incurred as a result of your doctor's negligence. Common economic losses for which you may receive compensation in a medical malpractice claim include:
Medical and hospital bills
Lost wages
Lost future earning capacity due to paralysis or other such long-term disabilities
Costs of housing adjustments made necessary by your injuries
Costs of custodial care
Non-Economic Damages
You may also receive compensation for your non-economic damages in a successful medical malpractice lawsuit. Also known as general damages, these losses are not as easily calculated as medical bills or lost income. Common non-economic damages for which the court may award you compensation include:
Physical pain and suffering
Emotional distress and mental anguish
Loss of Consortium
Permanent impairment
Loss of ability to enjoy the pleasures of life
Disfigurement
Evidence to Prove Liability in a Medical Malpractice Lawsuit [H3]
For a claim to be successful, your medical malpractice attorney will use various types of evidence to prove how your injuries happened, who contributed to causing your injuries, and how those injuries have impacted your life.
Your lawyer might demonstrate, for example, that due to doctor errors, you suffered pain, permanent scarring, or a loss of mobility. Additionally, your attorney may provide documentation to show that you missed work, incurred medical expenses, and lost future income.
There are several types of evidence that lawyers use to support medical malpractice claims. Your attorney may use:
Medical records showing the treatment that was administered or omitted
Medical research linking your condition to the alleged care standard violation
Testimony from medical experts
Your medical malpractice lawyer will identify the parties who played a role in causing your injuries. You may be able to file a claim against one or more of the following parties:
Attending physicians
Nurses, technicians, or radiologists
Hospitals or other health care facilities
In some cases, you may also hold product makers liable for injuries resulting from dangerous or defective drugs or medical devices. A transvaginal mesh attorney will walk you through your legal options.
Frequently Asked Questions About Medical Malpractice Claims
How long do I have to file a medical malpractice claim?
In most cases, patients injured by doctor errors have up to two years to bring medical malpractice claims in Illinois. An exception to this exists for children under the age of 18-years-old at the time of medical malpractice injuries or illnesses. The statute of limitations period in these cases does not begin to run until the child is of legal age.
Are there limits on the damages you can recover in a medical malpractice claim?
While the state previously imposed damage caps, there are no longer limits on the compensation awards victims may receive in injury claims involving medical malpractice.
Does Your Case Need An Expert Witness?
Illinois civil procedure requires medical malpractice lawsuits to include expert witness affidavits to indicate a medical expert or doctor has reviewed the circumstances, health care records, and treatment programs and certifies grounds exist for legal action.
You might be interested in these medical malpractice resources:
Did doctor errors cause you serious injury or illness? Call the medical malpractice attorneys at Strong Law Offices. (217) 544-9005.