Springfield Workers'

Compensation Lawyer

Hurt at work? Without an experienced Springfield workers' compensation lawyer on your side, you could miss out on critical benefits. Although the Illinois Workers' Compensation Act was designed to make your recovery straightforward, getting the insurance company to pay up isn't always so easy. Employers and their insurance companies frequently manipulate the system to deny valid work injury claims, delay processing, and minimize payouts. Let our work injury attorneys help you get the benefits you need to pay your medical bills and cover your expenses while your injuries heal. With more than 25 years of experience helping injured workers like you, our law firm knows what it takes to win your claim.

Take the first step toward financial recovery after your workplace accident. Call a Springfield workers' compensation lawyer at Strong Law Offices for a free consultation. (217) 544-9005.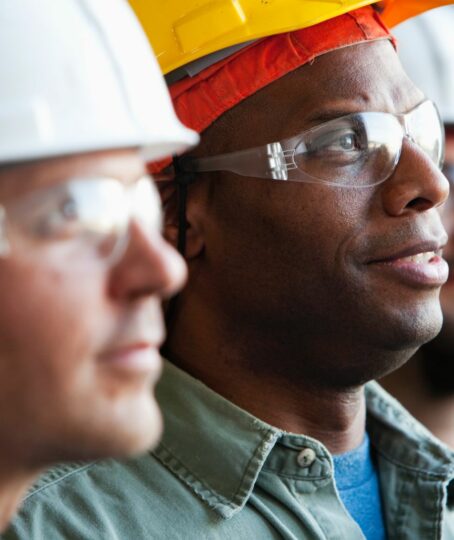 Do You Qualify for Workers' Compensation?
Enacted in 1912, the Illinois Workers' Compensation Act was designed to provide injured workers like you with a surefire method of surviving the financial impact of workplace accidents. The no-fault insurance program pays for medical treatment and reimburses injured employees for a portion of their lost wages regardless of fault for the accident. Not every injured worker qualifies, however. To be eligible for workers' compensation benefits in Illinois, you must be classified as an employee. Additionally, your accident must have happened during the course of your employment, and you must not have deliberately hurt yourself or intentionally caused the accident. If you are an independent contractor who was injured on the job, you probably won't qualify for workers' comp benefits. Other legal options may be available to help you recover compensation for your losses, however.
Common Causes of Workplace Injuries in Springfield
With massive medical facilities like Memorial Health and HSHS, and large factories like BUNN, it's no wonder there are so many injured workers in our community. Healthcare workers, factory workers, and transportation employees are at high risk of suffering workplace accidents, after all. However, work-related accidents can happen in any occupation. Over 84% of workplace injuries involve:
Slips and falls
Lifting, pushing, or pulling
Getting struck by objects or suffering crush injuries
Overexertion or heat stress
Repetitive motion injuries
What Benefits Are Available in Springfield Workers' Compensation Claims?
As an injured employee in Springfield, you are entitled to a wide range of workers' compensation benefits. These benefits are designed to compensate you for your financial losses, provide access to medical treatment, and help you move forward after your accident.
Medical Expenses

The necessary medical expenses you incur because of your workplace accident are 100% covered by workers' compensation in Illinois. This includes the cost of the ambulance, emergency room treatment, hospital stays, specialist care, surgeries, medications, and more. If you need special medical equipment or to make modifications to your home or vehicle because of your injury, those expenses are covered too.

Lost Wages

Workers' compensation insurance also reimburses you for a portion of your lost wages after a workplace accident. If you return to work part-time, or you're forced to take a lower paid position because of your injury, workers' comp will make up part of the difference between what you made before you got hurt and the income your physical limitations allow.

Vocational Rehabilitation

If your injury caused permanent disability, and you can't return to your former occupation, the workers' compensation program may help you obtain training for another type of job. You may even be entitled to receive monthly payments while you learn. Vocational rehabilitation benefits may include:
Formal education from a college or university
Technical training
Job placement
Temporary Disability Benefits
Temporary disability benefits may be available if you are expected to recover from your injuries, but you are temporarily unable to work. To qualify, you must miss at least 14 days of work. If you're eligible, you will receive up to 66 ⅔ of your average weekly wage.
Two types of temporary disability benefits are available. Temporary total disability benefits (TTD) are payable to you if you are unable to work until your injuries heal. Temporary partial disability (TPD) benefits provide a wage differential if you are able to work at reduced capacity while you are recovering.
Permanent Disability Benefits
If your accident left you with a permanent disability, you can receive permanent partial disability benefits (PPD) or permanent total disability benefits (PTD). You may be entitled to a scheduled loss-of-use award, unscheduled award, wage differential benefits, or disfigurement benefits if you have a permanent disability that still enables you to perform some of the tasks you used to be able to perform. If you reach maximum medical improvement and your doctor determines you to be permanently and totally disabled, PTD benefits may be payable for the rest of your life.
Filing a Third-Party Claim for a Workplace Injury in Springfield
The Illinois Workers' Compensation Act prohibits injured employees from suing their employers directly for work-related injuries in most cases. If another party who was not connected to your employer caused your work accident, however, you may have the right to bring a third-party personal injury lawsuit against the negligent person or company. Since workers' compensation benefits are limited to lost wages, medical bills, and vocational rehabilitation, filing a third-party personal injury lawsuit may allow you to recover more compensation. Third-party personal injury lawsuits are common in workplace accidents involving:
Car crashes
Construction site incidents
Defective equipment
Off-site injuries
Workplace violence
Toxic substances
When Should I Hire a Springfield Workers' Compensation Lawyer?
If your work-related accident caused significant injuries, it's a good idea to consult with a Springfield workers' compensation lawyer right away. This is true even if the workers' comp insurance company seems to be cooperating with your claim. Without an experienced attorney to evaluate your claim, you could miss out on valuable benefits. Hiring a workers' compensation lawyer is especially important if:
Your injury resulted in a permanent disability.
The insurer is ignoring or delaying your claim.
Your employer failed to carry workers' comp insurance.
Your claim was wrongfully denied.
What Are the Workers' Compensation Filing Deadlines in Illinois?
There are various deadlines that apply to workers' compensation claims in Illinois. If you fail to report your injury, file a claim, or appeal a decision within the allotted time periods, you could lose your right to recover compensation. Your workers' compensation lawyer can help you navigate the system to ensure you meet the required deadlines. Our work injury attorneys recommend reporting injuries and filing a claim as soon as possible. When a claim cannot be filed immediately, make sure to adhere to the following deadlines:
Reporting your work injury: You must notify your employer of your workplace accident within 45 days of when it occurred. Although you can report your injury verbally, we recommend that you provide written notice to your employer.
Filing a workers' compensation claim: You generally have up to 3 years from the date of your work accident, or 2 years from the payment of the last medical bill or disability check, to file a claim for workers' compensation benefits.
Appealing a claim denial: If your workers' compensation claim is denied, you must appeal the adverse decision within 30 days. To appeal an arbitrator's decision before a panel of three commissioners on the Illinois workers' comp board, you must request a review within 30 days.
There are exceptions to the deadlines, and you may have a longer period of time to pursue compensation for your work-related injury. Speak with a Springfield workers' compensation attorney if you are unsure about whether your window to file a workers' comp claim or appeal a decision has expired.
Do You Need a Springfield Workers' Compensation Lawyer if Your Claim Is Denied?
If your employer is refusing to pay workers' compensation benefits, they must provide you with a written statement about why your claim is denied. If you disagree with the company's decision, you have the right to hire a workers' comp attorney and file an appeal. While you are not required to hire a workers' compensation lawyer to appeal an adverse decision, doing so can improve your odds of receiving benefits. Your attorney will evaluate your claim and the reason for the denial to determine whether you should move forward.
Common reasons workers' compensation claims are denied in Illinois include:
The employer denies the accident was work-related.
The workers' compensation benefits claim was incomplete.
There was insufficient evidence to support that the worker was injured.
The claimant was not properly classified as an employee.
The claimant did not receive medical care for his or her injuries.
If your workers' compensation claim was wrongfully denied, and you meet the workers' compensation eligibility requirements, your workers' comp lawyer can help you navigate the appeals process to ensure important deadlines are met and steps are taken. These may include:
Filing for an adjustment of your claim. If your work injury claim was denied by your employer's insurer, you'll need to file an Application for Adjustment of Claim with the IWCC. Be sure to get proof of service showing you mailed a copy of the application to your employer.
Requesting a hearing before an arbitrator. You can appeal the insurance carrier's wrongful denial by requesting a hearing before an arbitrator with the Illinois Workers' Compensation Commission. Your arbitrator will set a trial date to discuss your claim with you and your employer. The arbitrator will issue a decision within 60 days.
Appealing the arbitrator's decision. If you're not happy with the arbitrator's decision, your lawyer can help you file a Petition for Review to have the decision overturned. A panel of three commissioners will review the decision and set a hearing date. The panel will issue a decision within 60 days of the hearing. If you disagree with the panel's decision, we can help you appeal to the Circuit Court, the Appellate Court, and then to the Illinois Supreme Court if necessary.
Frequently Asked Questions About Springfield Workers' Compensation Claims
Can I sue my employer for my workplace accident?
The Illinois Workers' Compensation Act protects employers from injury lawsuits in most situations. Exceptions exist, however. On rare occasions, employees may be able to sue their employers for work-related accidents that involve gross negligence. You can also sue your employer if they failed to maintain workers' compensation insurance.
Can I get workers' compensation benefits for carpal tunnel?
You can obtain workers' compensation benefits for carpal tunnel syndrome if your repetitive stress injury was caused by your job. Since repetitive stress injuries like carpal tunnel develop over time, it can be difficult to prove they were caused by your work. Your workers' comp lawyer can work with your doctors and other medical experts to help you win your claim.
Does workers' compensation cover future surgeries?
In Illinois, your workers' compensation settlement should include money for any surgeries your doctors say you will need in the future. The need for additional medical procedures will increase the value of your claim.
Learn More About Workers' Compensation Claims:
Injured in a workplace accident? Contact a Springfield workers' compensation lawyer at Strong Law Office. Call (217) 544-9005.