Champaign Workers' Compensation Lawyer
Injured on the job? The financial burdens caused by your work-related injuries do not have to fall on your shoulders. If you are a worker who suffered serious workplace injuries, and you needed medical care and time off work to recover, you may qualify for financial relief. You need a workers' compensation attorney in Champaign to help you recover.
For more than 25 years, the Champaign workers' compensation lawyers at Strong Law Offices have helped injured workers understand how workers' compensation works in Illinois. Let us help you recover the workers' compensation benefits you need to pay for your medical bills and a portion of your lost wages. 
If you were hurt on the job, call the workers' compensation lawyers at Strong Law Offices in Champaign to schedule your free consultation. 312-625-2720.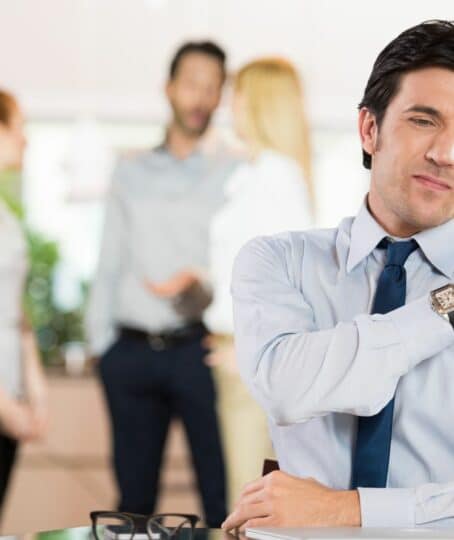 What Is Workers' Compensation?
Workers' compensation is a type of state-mandated insurance that most employers in Champaign must carry for their employees. It provides benefits to covered workers who suffer injuries or contract certain illnesses because of their jobs. Unlike personal injury cases, which are based on negligence, workers' comp benefits are paid regardless of whether the employer was at fault for the accident.
In exchange for the no-fault insurance benefits, injured workers relinquish their rights to file a personal injury claim or lawsuit directly against their employers for occupational injuries in most cases.
Types of On-The-Job Accidents Our Champaign Workers' Compensation Lawyers See
The risks workers face in the workplace vary based on factors such as the working environment and the type of work they perform. Some of the most common types of workplace injury cases a workers' compensation attorney sees involve:
What Types of Workers' Compensation Benefits are Available in Champaign?
Through a workers' compensation claim, injured workers may receive medical care coverage and lost wage benefits to support them through their recoveries and any ongoing effects they may experience as a result of their injuries.
In most cases, the workers' compensation benefits available to injured employees include the following:
Medical care and payment of medical bills
Vocational rehabilitation
Death benefits to surviving family members
Temporary total or partial disability
Permanent total or partial disability
Medical Care
Illinois workers' compensation law requires employers to pay for reasonably necessary medical care needed to cure or alleviate the effects of a workplace injury. Costs that commonly fall under these benefits include medical bills and expenses for emergency and hospital care, doctor appointments, surgery and other medical procedures, prosthetic and assistive devices, and pharmaceuticals.
Vocational Rehabilitation
In addition to necessary physical and occupational therapy, workers' compensation benefits in Illinois also cover vocational rehabilitation when applicable. If employees cannot return to their previous jobs because of the effects of their workplace injuries, they may participate in such a program. Vocational rehabilitation may include job training at an accredited institution, supervision of a job search program, or counseling for job searches.
Death Benefits to Surviving Family Members
If employees suffer fatal injuries at work, their surviving beneficiaries may qualify for benefits. Surviving spouses, children under the age of 18-years-old or disabled children over the age of 18-years, and dependent parents can have eligibility for monthly annuity payments of a percentage of the deceased workers' final average compensation.
Temporary Total and Partial Disability
If you are unable to work or you're released to light duty status, but your employer does not have the ability to accommodate you, temporary total disability benefits may be available. This partial wage replacement provides employees with two-thirds of their average weekly wages while they recover from their injuries.
If you are working light duty and earning less than you would if the workplace injury hadn't occurred, you may be entitled to receive temporary partial disability. Temporary partial disability pays two-thirds of the difference between what the employee earns while working normal duty versus light duty.
These benefits typically end when workers resume their normal duties and return to earning their regular wages.
Permanent Partial and Total Disability
Permanent partial disability benefits provide financial compensation for the complete or partial loss of a body part, complete or partial use of a body part, or the partial loss of the use of the whole body. Workers typically receive wage differential compensation, payment based on the schedule of injuries, non-schedule injury payment, or disfigurement compensation.
Workers may receive permanent total disability benefits if they suffer complete, permanent loss of both eyes, arms, hands, legs, or feet. The Illinois Workers' Compensation Commission also issues permanent disability awards in cases where workers lose any two such parts, for example, one leg and one foot, or who suffer a complete disability that keeps them from performing any type of work that has a reasonably stable job market.
Common Work-Related Injuries
The Bureau of Labor Statistics reported more than 2.6 million reportable occupational injuries occurred in 2021. Workers in every industry and profession have at least some on-the-job injury risk. While healthcare workers in Champaign may be at risk for back injuries, for instance, office workers may be more likely to suffer repetitive stress injuries.
The types of injuries people may suffer at work range from minor to catastrophic and fatal, depending on factors such as the type of work the employee performs and how the injury occurred.
Common injuries suffered by workers on the job include:
Filing a Workers' Compensation Claim in Champaign, IL
Taking the appropriate steps after suffering a work-related injury will help you receive the benefits you need to get your life back on track. Our Champaign workers' compensation lawyers walk workers through the claims process to ensure you don't miss a beat. This includes:
Reporting the workplace injury using the employer's procedures
Ensuring the employer reports the injury to the insurance carrier or workers' compensation administrator
Helping injured workers obtain the medical care and benefits they need to recover
Appealing denied claims and low settlement offers, if necessary
Determining Eligibility for Workers' Compensation Benefits
To determine workers' compensation eligibility, employers and their insurance carriers look at several factors. Some of the criteria used to assess your claim and eligibility for benefits can include:
Did the injury occur while the employee was performing duties pertaining to work?
Is the injured worker an employee who is covered by the employer's policy?
Did the worker report the injury within the allowed time?
Sometimes employers or insurance companies will deny workers' compensation claims without just cause. A workers' compensation attorney will help employees' whose employers have refused to pay for workplace accidents pursue their available options, including filing an appeal.
One of the most important reasons why you should hire a workers' compensation lawyer is that a workers' comp lawyer will help you gather evidence and submit the necessary information to help support your claim and improve your chances of recovering fair compensation.
Appealing a Denied Workers' Comp Claim
If your workers' comp claim is denied, it does not necessarily mean that you will not receive benefits. You have options, including filing an appeal with the Illinois Workers' Compensation Commission. Your workers' compensation lawyer will walk you through the courses of action available, and guide you through the appeals process.
The process for appealing a workers' compensation claim denial generally includes the following steps:
File an appeal with the Illinois Workers' Compensation Commission
Attend and present a case at a hearing before an arbitrator assigned by the commission
Receive the decision either overturning or upholding the initial decision
If you disagree with the arbitrator's decision, you can file a second appeal, and your claim will be reviewed by members of the commission. Should you still disagree with the decision issued, you have the right to pursue the matter before the circuit court and, if necessary, the Illinois Supreme Court.
Frequently Asked Questions About Workers' Compensation in Champaign, IL
Can you choose your own doctor or facility for medical treatment?
You may generally choose the provider who treats your work-related injury. However, you may have to select your physician from your employer's Preferred Provider Program, if they have one established. Going to a physician outside your employer's program may result in a denial of benefits for the resulting bills.
Your employer does have a right to ask for an evaluation of its choosing. They must, however, give notice and schedule at a reasonably convenient time and place.
What is the time limit for reporting a workplace accident?
Illinois Workers' Compensation law requires you to notify your employer as soon as possible. You should report your injury no later than 45 days after the date it occurred, or of when you first became aware of it and that it was likely caused by your job duties. You have up to 90 days to report excessive radiation exposure in the workplace to your employer.
Do you have to let a case manager hired by your employer manage your care?
Your employer may want a third-party case manager to follow and handle your claim. While you do have to provide medical records relevant to your case, you can refuse or limit the involvement of any such case managers or nurses hired by your employer. Your medical care is otherwise considered confidential.
You might be interested in these workers' comp claim resources:
Did you suffer a work injury? Call the Champaign workers' Compensation attorneys at Strong Law Offices. Call 312-625-2720.