Springfield Personal Injury Lawyer
For over 25 years, the legal team at Strong Law Offices has fought for personal injury victims throughout Illinois. We win big for victims of car accidents, slip and falls, defective products, and other negligent behavior. We leverage our experience and resources to level the playing field at the negotiating table and in the courtroom. Don't hire just any law firm to handle your case. Hire the Springfield personal injury lawyers at Strong Law Offices, and WIN.
Contact a Springfield personal injury lawyer with Strong Law Offices to schedule your FREE, no-obligation consultation. Call (217) 544-9005.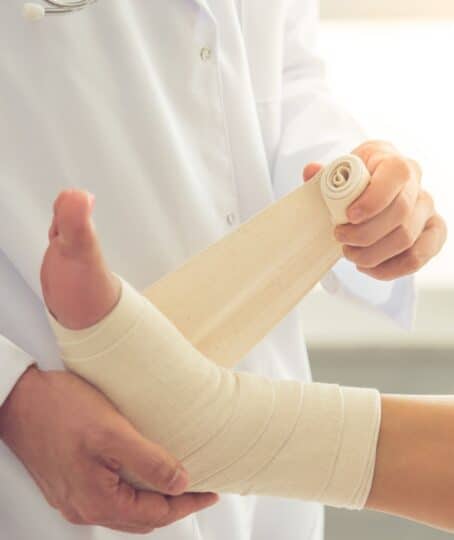 What Is a Springfield Personal Injury Lawsuit?
In a personal injury lawsuit, the plaintiff (or victim) sues the defendant (the at-fault party) for the harms that the defendant caused. For example, in a car accident, you sue the at-fault driver for causing the accident, seeking to recoup your losses. Often, the parties settle the personal injury dispute without the case ever going to trial.
Our Springfield Personal Injury Lawyers Have Seen it All
The Springfield personal injury lawyers at Strong Law Offices handle a wide range of cases. Personal injury claims that we have successfully litigated include:
Steps in a Personal Injury Lawsuit in Springfield
The steps you take in a personal injury lawsuit can mean the difference between struggling for months, or even years, to scrape by financially, and securing compensation for your medical bills, lost wages, and pain and suffering. Plaintiffs maximize their chances of winning a personal injury lawsuit when they involve an injury attorney. At Strong Law Offices, we will help you navigate the steps in a personal injury case, so you can use the time and space to focus on what matters most—healing from the accident. Our Springfield personal injury lawyers will help you:
File Your Personal Injury Claim and Engage in the Initial Round of Settlement Talks
After seeking medical attention, you'll need to file a claim with the at-fault party's insurance company. If you were injured in a car accident, for example, your Springfield car accident lawyer will help you file a claim against the other party's insurance company. The insurance company will investigate the claim and most likely submit a settlement offer to you. This initial offer usually doesn't represent the claim's true value, however. You'll need to talk to a personal injury lawyer in Springfield before accepting an offer from the insurance company to ensure your settlement is fair. The personal injury attorneys at Strong Law Offices understand what a good settlement offer in a personal injury case is. We can help you recover up to three times more than you might recover without legal representation on your side.
Filing a Personal Injury Lawsuit
If the parties can't reach a fair out-of-court agreement, your injury lawyer can help you file a personal injury lawsuit. You must take legal action within the applicable statute of limitations or filing deadline, or you risk losing your right to recovery. For most Illinois personal injury cases, the deadline is two years from the date that the incident happened, or the victim discovered (or should have discovered) the injury. This is irrespective of any insurance claim that the victim files. Exceptions may apply that may shorten or lengthen the deadline.
Entering the Discovery Phase
During the discovery – or fact-finding – stage, the parties send out written requests for information. This information is typically about the cause of the accident, the resulting injuries, or the parties' financial position.
Information that the parties may seek during the fact-finding stage includes:
Depositions (interviews conducted under oath) of witnesses
Medical records
Financial statements
Photos of the accidents
Video footage
Written statements
Police reports
Physical evidence
Claim documents
Settlement Negotiations
After the discovery phase, the parties typically engage in a second round of settlement negotiations. Armed with new information, the parties may decide that it is in their best interest to settle the lawsuit outside of court.
A personal injury lawyer is key for the plaintiff at this stage. The insurance company may employ unscrupulous tactics to try to get you to settle for less than the value of the claim. Part of the job of your Springfield personal injury lawyer is to help shield you from these tactics. Your attorney will advocate for your best interest, helping ensure that your settlement truly reflects what your injury case is worth.
Trial
If the post-discovery settlement negotiations don't lead to a successful resolution, your lawyer will press on to trial. Trial is where the parties each present their arguments and evidence to support their side or refute the other party's case. They do this by calling witnesses and examining the other party's witnesses in court. At the end of the trial, the judge (if a bench trial) or jury (if a jury trial) makes a final decision about who wins the case.
Our personal injury attorneys have over 25 years of experience litigating claims like car accidents, truck accidents, spinal cord injuries, and more. We are not afraid to take your case to trial if the insurance company refuses to budge.
Common Types of Injuries from Accidents
Our Springfield personal injury law firm has helped clients who suffered many types of injuries. We are:
What Do You Need to Prove to Win a Springfield Personal Injury Case?
What you need to prove to win your personal injury case depends on the type of incident that caused the injuries and your relationship with the defendant. For personal injury victims who are bringing a claim based on the theory of negligence, the following elements must exist to win your case.
Duty. The defendant must have owed you a duty of care. In car accident cases, for example, drivers owe other road users a duty to drive safely and obey traffic laws.
Breach. The defendant must have breached the duty of care. Your personal injury lawyer can establish this by showing, for example, that the other driver was intoxicated.
Causation. The defendant's breach must have caused your injuries. For example, the intoxicated driver ran through a stop sign and hit your car, which in turn caused your injuries.
Harm. You must have suffered actual harm because of the accident. It's not enough that the intoxicated driver caused an accident. You need to show that you suffered injuries and losses because of the crash.
Who Can You Sue for a Personal Injury Accident?
Many parties may be liable for the accident or event that caused your injuries. In a Springfield personal injury case, you may be able to sue:
Nursing home staff
At-fault drivers
Manufacturers
Pharmaceutical companies
Hotels
Restaurants
Landlords
Grocery stores
Corporations
A personal injury attorney at Strong Law Offices can help you identify the responsible parties and file a claim or lawsuit against them.
What Damages Can You Recover in a Personal Injury Case?
Damages that you may recover if you win your personal injury case include:
Medical bills and expenses
Lost wages
Pain and suffering
Transportation costs
Prescription costs
Loss of quality or enjoyment of life
Frequently Asked Questions About Personal Injury Cases in Springfield
The insurance company sent me a settlement offer. What should I do?
Many times, the initial offer sent by an insurance company doesn't truly reflect what your claim is worth. Talk to an experienced attorney and ask that he or she reviews the offer.
Do I have to file a personal injury lawsuit against someone within a certain amount of time?
You will need to file your personal injury lawsuit within the applicable statute of limitations, or you could lose your right to recover compensation. Most personal injury cases carry a filing deadline of two years. The clock starts ticking when you discover (or should have discovered) the injury.
I was in a car accident. What should I do next?
The first step after a car accident is to seek medical attention right away. Doing so helps ensure that you receive the medical care you need to heal from the accident. Some injuries are subtle, only rearing their heads days or weeks after the accident. The initial doctor visit also creates a paper trail that you will use to prove your case. Once your condition is stable, contact a personal injury attorney to make sure that your rights are protected, and you don't miss any important filing deadlines.
You might be interested in these personal injury resources:
Injured because of someone else's actions? Our Springfield personal injury attorneys will help you win your claim. Call (217) 544-9005.