Champaign Motor Vehicle Accident Attorney
Car accidents place substantial financial burdens on injured victims. Champaign motor vehicle accident lawyer Todd Strong has helped injured car accident victims throughout Illinois recover financial compensation through personal injury lawsuits for decades. Our car accident lawyers focus on fighting your legal battle with the insurance companies, so you can focus on your recovery.
Insurance companies don't have car accident victims' best interests at heart. Insurance adjusters are focused on the insurance company's bottom line, and they will fight to keep settlement values low after a car accident. An experienced car accident lawyer with Strong Law Offices will fight to protect your rights and ensure you get fair compensation.
Got hurt? Get strong. Call our Champaign motor vehicle accident attorneys to schedule your free consultation today.  (312) 625-2720.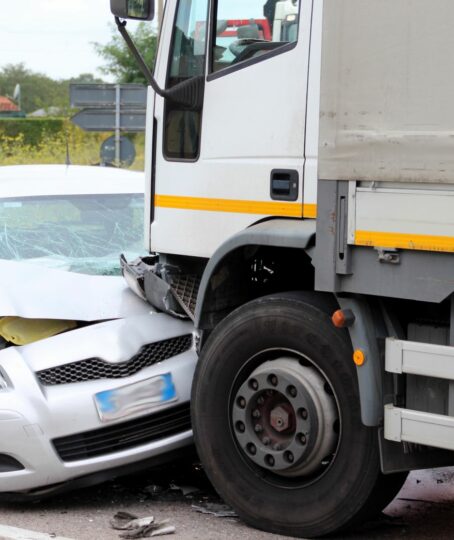 How Does Fault Impact a Settlement for Motor Vehicle Accident Victims?
Illinois follows a modified comparative negligence structure when awarding compensation in car accident claims. Comparative negligence structures allow victims of motor vehicle accidents to recover damages after car crashes even if they contributed to the car accident, as long as they are less than 50% at fault. The victim's settlement will be reduced by his or her percentage of fault, however. For example, if a motor vehicle accident victim is determined to be 20% at fault for a car accident in Illinois, his or her settlement award will be reduced by 20%.
Injuries Commonly Seen by a Champaign Car Accident Lawyer
Motor vehicle accidents can cause victims to suffer injuries ranging from mild to severe. Often, the nature of the crash and the speed at which it occurred impact the severity of a victim's injuries. Some car accident injuries may take weeks to heal, while others can be permanent and life-altering. In some cases, accident injuries may be latent, meaning that they may take days or weeks to become apparent. The complex nature of hidden car accident injuries is just one reason victims should seek proper medical attention immediately after a motor vehicle collision.
At Strong Law Offices, our Champaign car accident lawyers frequently handle automobile accident cases involving the following common injuries:
Neck, back, and spinal cord injuries
Head injuries and traumatic brain injuries
Soft tissue injuries
Bone breaks and fractures
Minor injuries, such as bruising and lacerations
Burns, scarring, and disfigurement
In addition to the above physical injuries, victims of car accidents often sustain emotional injuries, such as PTSD, depression, and anxiety.
Common Causes of Motor Vehicle Accidents in Illinois
Though a car accident can arise out of a variety of circumstances, there are a few common themes present in Champaign car accident claims.
Distracted Driving
There are many distractions present both inside and outside a vehicle when driving through central Illinois. High energy conversations with passengers, loud music, fumbling with navigation devices, and eating or drinking while behind the wheel are just some types of distracted driving that cause automobile accidents.
Driving Under the Influence
Driving under the influence greatly impacts a driver's ability to navigate through traffic safely and reduces reaction times, increasing the likelihood of automobile accidents.
Speeding/Reckless Driving Behaviors
Reckless driving behaviors, such as speeding, running intersections, unsafe lane changes, wrong-way driving, and making improper turns contribute to a high number of car accident cases in central Illinois. Since faster speeds lead to more significant impact, most accident claims that involve speeding include claims for traumatic brain injury, spinal cord injury, or death.
Fatigued or Untrained Truck Drivers
A common form of motor vehicle accidents is truck accidents. These accidents are often caused by fatigued drivers, or drivers extending their working hours outside the allowed time frame. In some cases, truck drivers may receive insufficient training or licensing before getting hired and hitting the road, causing auto accidents.
What to Do After a Motor Vehicle Accident in Champaign
The steps you take immediately following a Champaign car accident can have a direct impact on the success of your car wreck claim. Preserving evidence, reporting accident details accurately, obtaining security camera footage, and securing a car accident lawyer as soon as possible will help you prove liability in your case. Additionally, seeking medical attention immediately after the auto accident will help keep all the details of your injuries documented from the start.
After car crashes, car accident lawyers recommend that victims take the following steps:
Check for Injuries: Assess your injuries. If you are able, check your passengers, as well as the occupants of other involved vehicles, for injuries as well. If necessary, contact emergency medical providers to care for victims with serious injuries. If emergency medical attention is not necessary, see your primary care physician as soon as possible.
Move the Vehicle to a Safe Location (If Necessary): If the location of the accident causes the vehicles to become a hazard, or places the victims at risk of additional harm, the vehicles, and their passengers, should be relocated to the nearest safe location. This can be as simple as moving the vehicles to the side of the road, or pulling off of a busy street to a less-populated side street.
Report the Accident: Once injured individuals have been accounted for, road hazards have been moved, and occupants have relocated to safety, victims should work with Champaign law enforcement to file a police report. The information that goes into this police report is crucial evidence for a car accident claim. As such, you should retain a copy and keep track of the police report number.
Document the Accident Scene: Thoroughly documenting the accident scene through photos, videos, and witness accounts can help prove you are not at fault for the accident. Eyewitness information should be retained and provided to car accident lawyers to help support the claim.
Exchange Information: Victims of car wrecks should exchange information with the other involved driver. This includes personal information, such as name and contact details, as well as insurance policy information.
Contact an Attorney: Accident victims need to contact experienced attorneys immediately after a crash occurs. Car accident lawyers can handle negotiations with the insurance company; help compile evidence to support your claim, and handle the legal end of your car accident case.
Contact the Insurance Company: If the other party's liability insurance is responsible for paying for the accident, let your motor vehicle accident lawyer contact the insurance company and handle communications on your behalf. This helps to ensure that you don't say anything that could jeopardize your personal injury claim and your right to full compensation.
Follow Through with Your Medical Treatment: Following through with medical treatment plans for injuries sustained in car accidents is vital to your health, and also to your accident claim. Seeking medical treatment provides consistent medical records directly from a medical provider regarding your injuries. This, combined with consistent treatment efforts, helps motor vehicle accident lawyers prove the legitimacy of your claim and the severity of your injuries.
Damages Available in a Champaign Motor Vehicle Accident Claim
Various types of compensation can be recovered for all costs directly associated with the accident through a personal injury lawsuit or claim. A Champaign car accident lawyer with Strong Law Offices can help you determine how much your car accident case is worth. If the insurance company refuses to pay you a fair settlement, we can negotiate on your behalf to preserve your right to compensation.
At Strong Law Offices, we help accident victims recover the following damages:
Economic Damages
Economic damages represent the direct financial consequences of a car accident. This includes medical bills, costs for rehabilitative and long term care, lost wages, and other related expenses. To help your accident attorney calculate your economic damages, save your earnings statements, medical bills, and receipts.
Non-Economic Damages
Non-economic damages are the intangible costs associated with an automobile accident. Car accidents can leave victims facing consequences that do not have a direct monetary value. These include anxiety, depression, PTSD, pain and suffering, loss of consortium, reduced quality of life, and disfigurement. Your attorney will use your economic damages as a basis for valuing your non-economic damages caused by a motor vehicle accident.
Punitive Damages
Though rare, punitive damages can be sought for accidents that were caused by the egregious actions of another party. Most commonly, this includes intoxicated, reckless, or distracted driving incidents that cause injuries to others. Unlike other damages, which are designed to make auto accident victims whole, punitive damages are meant to punish the wrongdoer.
Frequently Asked Questions About Motor Vehicle Accidents
How long do I have to sue after a motor vehicle accident in Illinois?
In Champaign, Illinois, the statute of limitations determines how long victims of car accidents have to file a lawsuit. Motor vehicle accidents fall under the Illinois personal injury lawsuit statute of limitations, which is generally two years from the date of the accident. Retaining a Champaign car accident lawyer and initiating a lawsuit right away is crucial, however. The validity of evidence can deteriorate over time, and the memories of witnesses can quickly become faded.
Who do I sue for a truck accident that wasn't my fault?
A variety of parties may be liable for your trucking accident. If the accident was caused by reckless or negligent driving behavior, then negligent drivers may be held liable. If the trucking company participated in negligent maintenance or hiring practices, they may be sued for a resulting crash.
How do I prove liability in a motor vehicle accident claim?
Proving liability in a motor vehicle accident claim can involve evidence such as traffic camera footage, police reports, witness statements, and other documentation. Additionally, trucking accident claims can be supported by evidence pulled from the truck's black box.
You might be interested in these personal injury resources:
Were you hurt in a motor vehicle accident at the hands of a negligent driver? Call Strong Law Offices to seek compensation today. (309) 435-0146.