Champaign Car Accident Lawyer
Champaign car accident victims should not have to bear the financial burdens that are caused when a motor vehicle crash happens through no fault of their own. When drivers, passengers, or pedestrians suffer harm because of another driver's negligent or reckless actions, the injury victims can hold the at-fault motorist liable for the medical expenses, lost wages, out-of-pocket expenses, and pain and suffering the accident caused. The Champaign car accident lawyers at Strong Law Offices have represented motor vehicle accident victims in Illinois for more than 25 years. Let us help you recover compensation from the negligent driver and the insurance company.
Contact our Champaign car accident lawyers to discuss your right to damages. T schedule your free consultation today, call 309-393-2928.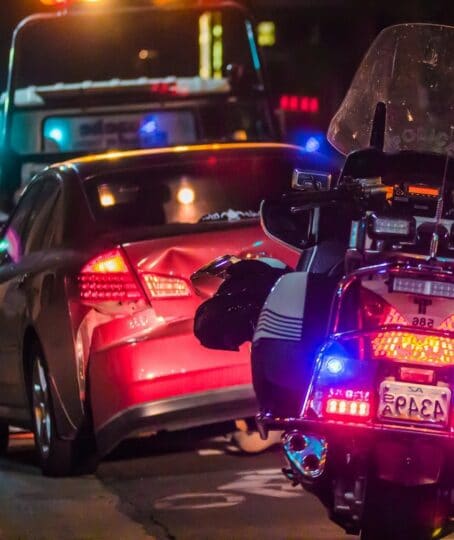 Types of Automobile Accident Cases Our Champaign Car Accident Attorneys See
Congested traffic and complicated interchanges on Interstates 57, 72, and 74, combined with rushed and distracted drivers on their way to work and school in the Champaign–Urbana metropolitan area, raise the risk for car crashes in central Illinois. The most common types of motor vehicle accident cases our personal injury lawyers see involve:
Head-on collisions
Rear-end accidents
Side-impact crashes
Intersection collisions
Interstate accidents
Highway construction crashes
Where and Why Auto Accidents Occur
Numerous factors contribute to the number of auto accidents that happen in central Illinois. Some causes of motor vehicle wrecks are attributable to factors outside of drivers' control, such as weather conditions, road hazards, and mechanical defects. More often, however, driver negligence is the culprit in car crashes.
Some of the most common causes of car accidents in Champaign include:
Distracted Driving
Distractions pose a substantial risk for causing auto crashes. Distracted driving is negligence, and it is a top cause of crashes that result in personal injury lawsuits in Illinois. Distracted driving happens when a vehicle's driver engages in any activity that takes attention away from the safe operation of a vehicle. Visual, manual, and cognitive distractions include activities such as drinking, eating, changing the radio station, text messaging, talking on the phone, and even talking to passengers. While they are distracted, drivers may miss vital traffic queues that help them avoid a car wreck, or otherwise fail to maintain safe control of their autos.
Speeding
The Illinois Department of Transportation reports that 31.9% of the car wrecks across the state in 2020 involved speeding. Traveling at excessive speeds puts drivers at risk of losing control of their vehicles, and crashing into objects, pedestrians, or other autos. High speeds also increase the force of a collision, often leading to more serious injuries or even death.
Aggressive Driving
Aggressive driving includes various behaviors and traffic offenses that put the drivers, their passengers, the motorists with whom they share the road, and others at risk. Many accidents in Illinois that cause serious injuries involve aggressive driving behaviors like tailgating and switching lanes too quickly. Driving aggressively may result in motorists:
Losing control of their vehicles
Not seeing road hazards or changes in the driving conditions
Lacking time to safely respond to road hazards or changes in the driving conditions
Running other drivers off the road or into other vehicles
Drowsy Driving
Any driver who does not get enough sleep, drives for long periods of time, or is taking certain medications is at a higher risk of causing a crash. Drowsiness may cause substantial impairments such as delayed reaction times, decreased ability to focus on the road, and poor decision-making. Additionally, motorists may experience microsleep. Although seemingly awake, perhaps even with their eyes open, drivers may experience these short episodes where the brain does not process information.
Driving Under the Influence of Drugs or Alcohol
After as few as two drinks, the effects of alcohol may impair drivers. Depending on their blood alcohol concentration and other factors, motorists may experience reduced coordination, speed control issues, impaired perception, decreased ability to brake appropriately or maintain lane position, and reduced visual and auditory information processing.
The effects of drug use, including some prescription medications, may cause impairments similar to drinking alcohol, and increase drivers' risk of causing potentially serious auto accidents.
IDOT reports that drug or alcohol was involved in 19.7% of the 1,088 fatal car accidents across the state in 2020. If you lost a loved one in a drunk driving accident, a wrongful death lawyer at Strong Law Offices can help you prove liability and recover financial compensation for your losses.
Common Injuries Car Accident Victims Suffer
On average, more than eight people per hour suffered crash injuries in 2020. In some cases, drivers, passengers, and others involved in motor vehicle wrecks suffer relatively minor injuries that don't require medical attention. In other, cases, however, injured victims suffer severe injuries, like spinal cord damage, traumatic brain injuries, or internal organ damage. Injured victims may require ongoing medical treatment, sometimes for the rest of their lives.
Our attorneys often see collision injuries like:
Abrasions and Cuts
Broken Bones
Crushing Injuries
Whiplash and Soft Tissue injuries
Spinal Cord Injuries
Traumatic Brain Injuries
Assessing Liability After a Champaign Car Accident
Sometimes the cause, and thus, the at-fault party, for a motor vehicle collision is immediately obvious. Other times in a car accident case, careful examination of the facts and analysis of the evidence is required to determine who has financial responsibility. A Champaign motor vehicle accident attorney at Strong Law Offices will help you determine who is liable for your losses. Our law firm will help you file an insurance claim against the at-fault driver's insurance company, and we will negotiate with the insurance representatives to ensure you recover a fair settlement.
In pursuing damages against the insurance company, your car accident lawyer will:
Take over settlement negotiations with the insurance companies
Represent your interests in court, if necessary
Contact and take statements from witnesses
Gather medical records and other supporting documentation to help prove your injuries and damages
Consider whether the defense can argue contributory negligence
Contributory Negligence in a Car Accident Lawsuit
Illinois has a modified comparative fault rule. What does that mean for you? If the judge or jury hearing your personal injury claim find you share responsibility for the car accident, it may affect your total award.
Under the state's rule, the recoverable damages you receive may be reduced in proportion to your percentage of fault. For instance, the court determines that the other driver is 80% responsible for causing the crash that led to your injuries, and that you bear 20% of the fault. If the allowable damages in your case were $100,000, you would receive $80,000.
Damages Motor Vehicle Accident Victims Can Recover
A car accident claim will seek to make you as close to financially whole as possible for your injury-associated losses. To this end, you can request compensation for your economic and non-economic losses. A Chicago car accident attorney will work with you to assess the current and anticipated future costs of your injury, so you can receive a fair settlement.
Motor vehicle crashes often bring financial, physical, and emotional costs, all of which you may seek compensation for in a car accident lawsuit. The economic damages you seek include those losses with verifiable values and costs. Non-economic damages, on the other hand, refer to the less tangible, subjective losses you suffered because of the wreck and your resulting injury.
Some examples of the economic damages you may recover include:
Lost wages
Lost future earning capacity
Medical bills
The costs of home health care or assistive devices
The types of non-economic damages you may receive compensation for include:
Pain and suffering
Inconvenience
Emotional distress
Loss of companionship
Loss of consortium
Frequently Asked Questions About Car Accidents
How long do I have to file a car accident injury lawsuit?
Illinois imposes a statute of limitations on car accident claims. With few exceptions, you must initiate legal action in such cases within two years of the date that your accident occurred. If you file outside the allowed timeframe, it will often cost you your right to collect compensation.
Are there limits on the compensation I can recover?
The at-fault driver's auto insurance will only compensate you up to the policy limits. State law requires motorists to maintain coverage with a minimum of $25,000 for injury or death to one person and $50,000 for injuries or deaths to more than one person.
If your losses exceed the allowable insurance coverage, you may pursue a civil action against the at-fault driver for the remainder. Illinois does not impose caps on personal injury damages. Therefore, there is no limit to the amount of compensation you can recover for your associated losses.
Do you have to accept the insurance company's settlement offer?
While representatives from the insurance company may lead you to believe otherwise, you are under no obligation to accept the insurance carrier's settlement offer. In fact, you should take care when talking with the insurance company. Often, representatives aim to protect the company's bottom line above getting you the compensation you need and deserve, and may attempt an unreasonably low offer.
You might be interested in these car accident resources:
Did a negligent driver cause your car accident? Call the personal injury attorneys at Strong Law Offices. 312-625-2720.